Before he was injured, Manu Heras loved to travel. Now, the Barcelona native is back on the road, crossing continents, mingling with locals, and seeking out adventures off the beaten track—be it in a compact car, a camper van, or his Freewheelin' chair.
My name is Manu Heras. I'm from Barcelona, now living in Vancouver. I have always loved to travel. For me, it means freedom, adventure, new experiences, and discovery! I'm passionate about unknown places and outdoor adventures.
I have an SCI — my level of injury is a complete T4, the result of a motorcycle accident in 1997 when I was 18 years old. These days, I'm focused on advocating for people with disabilities and continuing to take on the challenges of travelling independently.
My love for travel comes from my childhood. As kid I travelled with my family all around Spain, Portugal, and France. Since then, I've travelled across North American in my old Dodge van and backpacked for six months through Central and South America. I am now planning another backpacking trip through Southeast Asia, Australia and New Zealand.
Save
Save
I have always loved to travel. For me, it means freedom, adventure, new experiences, and discovery!
Since I got hurt when I was only 18, I did not have many opportunities to travel on my own. One year after I was discharged from the hospital, I passed my driver's test and began to regain independence and confidence. I thought about the goals and dreams I had, and realised that I did not have to live without any of the things I love to do the most. So, I decided I was going to travel again.
In the beginning, there were many challenges. Simple things that people (including myself before my accident) take for granted became everyday challenges while travelling. This was a different type of adventure I had not planned in life, and I began to figure out new ways to commute, deal with bathroom "situations", etc. Facing things such as inaccessible hotels or other services is one thing, but encountering accessibility issues for basic needs such as non-accessible washrooms can be very frustrating. This was, and still is, the worst part of travelling for me.
Simple things that people take for granted became everyday challenges while travelling.
NAVIGATING THE BARRIERS: EUROPE BY CAR

Step by step, I got to know myself a little better and feel more confident in my ability to try new things. When I took on the challenge of travelling around Europe in a compact car, my real adventure began. I slept in my vehicle or in a tent, occasionally in hotels. At this time I started to learn that I had to adapt myself to this world and accept that architectural barriers are everywhere (stairs, narrow doors and sidewalks, etc.) and that I would now have to find an alternative way to overcome them—both physically and mentally.
HITTING MY STRIDE: ALASKA TO MEXICO

Five years ago, when I first came to Canada, I bought a camper van. To this day, I travel and sleep in it, in any conditions and weather. Except for the hand-controls, the camper itself is non-accessible and is not equipped with any special devices. So I have developed many tricks to make it functional for my needs: I have rigged up systems of poles, strings, clips, and other simple items that make everything easier. Also, having a good memory helps to avoid getting in and out of the van to find that thing you forgot!
Save
Save
Not only has my van given me the opportunity to travel wherever I want, it has also given me a sense of freedom and independence—which is the best gift of all.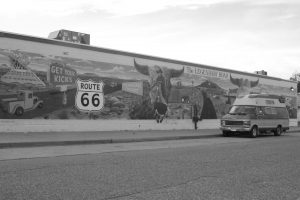 I recently drove from Alaska to Mexico, across Canada and USA. It was one of the best decisions of my life. Part of the fun was driving the southern USA's historic Route 66, visiting its museums, meeting many different people, and seeing the old-fashioned hotels and gas stations. I also drove through the spectacular Rocky Mountains and visited many National Parks and National Monuments. I particularly enjoyed the Four Corners area, including Monument Valley, Mesa Verde, Canyon de Chelly, Canyonlands, and more.
Most of the time, I traveled on my own, parking my camper van in beautiful natural settings and sleeping there overnight. In the daytime, the things I enjoy the most about travelling are spending time in nature, visiting small towns, and meeting local characters.
Save
Save
GETTING BY WITH A LITTLE HELP FROM NEW FRIENDS

Of all the locals I met, I will always especially remember two big-hearted Navajo guys from a Native American tribe. They helped me out when my camper van broke down on a native reserve in Arizona. It was a beautiful spot called Buffalo Pass. Unfortunately, it was at a high altitude in the middle of nowhere—and it was raining and snowing. I was very relieved when a passing car stopped.
The passers-by, two Navajo men, performed all sorts of mechanical tricks on my camper, but were not able to figure out what was wrong. They offered to get my van to their home and wait for a tow truck there, but the only way to do that was to chain it to the back of their truck and pull. They pulled me downhill through the snow for a few kilometres, so it was difficult to steer and kind of scary!
We made it safely to their home in the forest and warmed up around a bonfire. There, we shared food, laughs, cultural traditions, and sang some Navajo songs. What a great memory!
Sometimes, when I'm driving, I miss this chance to meet local people and share part of our life experiences. For meeting other travellers and area locals, I still prefer backpacking.
Save
Save
Of all the many wonderful things to experience while travelling, one of my favourites is watching wildlife… and the best way to do that is on trails! The trails are often non-accessible, but I always try to see how far I can go, and sometimes I can go pretty far!
I think it's important to push our limits because otherwise we would never know what we are capable of! I use the Freewheel along with my mountain bike tires, which works great for me and makes my wheelchair more versatile.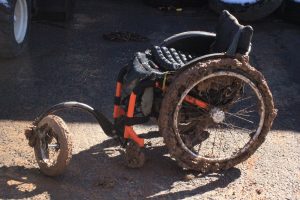 During this Alaska to Mexico trip, I challenged myself in a way that I find especially enjoyable: I explored some non-accessible trails with rocks, roots, slopes and some stairs. And I successful did some of them … and some others not, but I tried!
I think everybody has to at least TRY! Trying means courage; it means improving your quality of life; it means personal growth; it means gaining self-confidence. Try without being afraid to fail or worrying about what people are thinking.
Save
Save
Save
You don't have to do the stuff that I do. We are all different, with all kinds of needs and motivations to make us happy! For me it was digging up those childhood travel memories and turning them into a reality. For you it could be something big or small, with others or alone, across the world or within your own neighbourhood. Try doing things that make YOU happy.
Trying means courage; it means improving your quality of life; it means personal growth; it means gaining self-confidence. Try without being afraid to fail or worrying about what people are thinking.
When I went to Central and South America on my backpacking trip, I really went far out of my comfort zone. There is no accessibility infrastructure there, but I felt happy… I felt scared… I felt that I was free and alive!
But that's a story for another post…
If you have questions for Manu Heras or want to follow his adventures, you can find him on Facebook at facebook.com/manu.heras.5
BASIC TIPS BEFORE YOU TRAVEL
Search for accessible information through local disability associations or individuals with the same needs than you.
Call to double check the info and ask about anything else you may need (e.g., public transport, accommodations, restaurants, etc.).
Check your wheelchair or your device before you leave, and make sure that you have all the essentials with you: wheelchair tools, pharmacy stuff, and more!
Save