Earlier this year, the BC government modernized its service dog legislation. The changes include allowing dogs trained in small schools and by private handlers the opportunity to earn official government certification. But some critics say the legislation is too restrictive, and others say it doesn't go far enough to ensure all dogs are legitimate and trained to meet the standards.
Two years ago, Rob Pullen was sitting at home with his new puppy, Cooper, a white and brindle French Bulldog-Beagle, when he began having a post-traumatic flashback. An army veteran, Pullen regularly relived the horrors of his military tour in Bosnia. To his surprise, his family pet sprang to action, standing on Pullen's lap and caressing him neck to neck. Eventually, Pullen relaxed. The episode passed.
"I immediately knew I needed to find out if I could get him certified," recalls Pullen.
After searching online for three weeks and dodging several suspicious trainers who wanted big money up front, Pullen found Citadel Canine Society, a local nonprofit organization that helps to train pets and rescue dogs for first responders and veterans like Pullen. The organization assessed Cooper and deemed him a candidate, and the new handler-dog duo began Cooper's service dog training.
"I didn't go outside for 14 or 15 years, other than taking the dog to the park—and that was when there was nobody there," says Pullen, whose frontline military experience led to two decades of self-medication (he's sober now) and a gradually worsening SCI. "And with Cooper, it's like, 'Okay, where's the busiest place? Let's go!' I'm always challenging myself now because I know he's going to be there for me."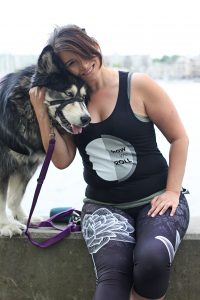 Under BC's new Guide Dog and Service Dog Act, which came into effect this past January, dog-handler teams like Pullen and Cooper are eligible for official service dog certification. It's part of a new set of training standards under which canine graduates from small schools and privately-trained dogs can be considered for the same certification as service dogs from larger and well-established organizations that are accredited by Assistance Dogs International (ADI) and International Guide Dog Federation (IGDF)—organizations such as Pacific Assistance Dogs Society (PADS).
But the big "if" is whether Cooper and other small-school pups can pass the Ministry of Justice's 40-task test.
"With assistance dogs, people think labradors," says Kristina Shelden, who lives with an incomplete SCI and thought she was too high-functioning to be "allowed" a service dog. But she learned about Leash of Hope, a new program in BC that procures rescue dogs from across the continent and retrains them with people with disabilities in mind. Shelden was soon paired with Sierra, a malamute. Despite some small hiccups through the training process—Leash of Hope is still relatively new and finding its footing—Shelden's since come to rely on Sierra for help with stability issues.
"When a different breed is in a vest, people are like, 'What the hell is that, that's not real!'" says Shelden. "But it is. It's just different from what you're used to. It means nothing in the grand scheme of things and people have issues with change."
Often, when you're in a wheelchair, it's like you're invisible. But as soon as you have a dog . . . everybody wants to talk to you.
Tara Doherty, Communications Manager and a Puppy Program trainer for PADS, wouldn't exactly agree. She's raised three labs and three golden retrievers—animals purpose-bred with top stock from around the world to be service dogs, as per the PADS model. Of those six pups, two have gone to a client. She estimates that well-bred dogs that are not purpose-bred for service work have a one in ten chance of succeeding—and just one percent of all rescues dogs have the potential to make it through the rigorous PADS training.
"One of the reasons we promoted this legislation is that it allowed these people a form with which they could get certified, but would be unlikely to," says Doherty, admitting that, although this sounds terrible, the test needs to be hard. "The dogs have to pass (each of the 40 prescribed tasks) with 100 percent, which is the standard that we hold our dogs to. When the dog passes another dog on the street, it has to ignore it; when it passes food on the ground, it has to ignore it. It can't bark or vocalize in public, it can't toilet in public. We're not asking anyone to do anything that our dogs don't. "
As a member of the small team that helped draft the new Service and Guide Dog legislation, Doherty is well aware of the benefits of the human-canine connection for people with disabilities. She says that, in addition to vital companionship, studies show that having a service dog reduces the amount of healthcare that individuals with disabilities use, decreases the amount of home care they need, increases their independence, and even makes them more employable.
"Often, when you're in a wheelchair, it's like you're invisible," says Doherty. "But as soon as you have a dog, it's like running an obstacle course—everybody wants to talk to you, everybody wants to compliment your dog, everybody wants to pet your dog. And then they follow the leash up and start a conversation."
But, like many others in the service dog community, she's worried that new organizations and private trainers for-hire aren't upholding the rigid training standards that are essential to owner, animal and public safety—and that recipients of new service dogs don't know any better.
"It's quite challenging for us to look at people calling themselves organizations, when really they're a group of individuals that are passionate about something but have no training or expertise, and they're not a registered charity," says Doherty. "A lot of times we're getting those people after they've been through a horrific experience with a 'school' that doesn't really know what they're doing…The experience I have with other organizations is that they try to pound that square peg into a round hole—they turn a blind eye to issues and they try to make that dog successful no matter what, which is not really ethical from a dog's perspective or from a client's perspective."
Nicole Whitford, whose golden
PADS labrador, Walker, allows her to live independently with cerebral palsy, agrees. "I don't mind other schools coming up, just do it properly—do it under code," she says, adding that unqualified assistance animals could be a real liability to their owners and a risk to passersby. She's also worried that improperly-trained dogs can act up in public, creating a bad name for all service dogs, causing mistrust and discomfort within the general population, and further limiting public access.
While Whitford supports the PADS model—with the organization retaining ownership and responsibility for its animals, and training specific breeds from birth—both her and Doherty recognize that the non-profit's waitlists, currently up to four years, can be a real deterrent.
Danielle Main, who co-founded Leash of Hope with SCI BC member Tessa Schmidt, believes that another obstacle with the larger, established organizations is that they seem to give preferential treatment to people with higher-level disabilities. Legally blind, Main says she looked into some of the larger guide dog schools when she was younger, but was constantly deemed a low-priority on account of being "too high-functioning." Now, she and Schmidt believe Leash of Hope can help fill that gap.
"We are an organization that specifically tries to tailor dogs to people with higher-functioning disabilities who want independence," says Main. "We are small and it means that we can take our time for complex clients or complex situations, and that's kind of our focus and niche. We probably will always stay this size, though we're working on getting ADI accreditation."
I don't mind other schools coming up, just do it properly—do it under code.
Main is satisfied that Leash of Hope's careful rescue animal selection process and its hands-on five-level training curriculum are up to industry standards, and that dogs from her program are unlikely to fail the government's current assessment. (At least a couple of Leash of Hope clients we spoke to were also optimistic, but hardly as confident.) She feels there's stigma around small organizations and their levels of training and accountability. And she already sees some big holes in the new legislation.
"To go through the (certification) right now to do that test (costs) $200, and they have to redo a public access test?" questions Main. "Could you imagine coming here from England and having a service dog from where you're accredited from and then being told you can't have your dog in the hotel?" Not only does she see the fee as prohibitive, she's also worried the accreditation process doesn't hold independent dog-handler teams accountable after they've passed the test. And she's not quite sure the new Act will do enough to eliminate the fakes
She may have reason to be concerned. A quick search on amazon.com brings up 305 full pages of service dog vests, leashes, and other paraphernalia. Novelty ID cards inscripted with "Full Access Required by Law" run from as little as $7.95 USD, while a Service Dog ID Pro Bundle, which includes an official-looking metal badge, key tags, 50 informative handout cards, a digital ID card, and a physical card, comes in at $79.99 USD. That's about half the cost of the certification test—and it ships within the week.
"It's horrible! The whole fake service dog thing is a racket," agrees Whitford. "Another problem is that, unfortunately business and public managers don't really ask for ID and enforce it, and that's something that they have a right to do, but don't really want to."
Main, too, emphasizes that as far as identification is concerned, there's still a major lack of education among BC transit operators, and business owners and employees. "They see someone who looks able-bodied or has more of an invisible disability—whether they have an SCI and they're ambulatory, or they're autistic—and they harass them to no end," she says. "However, we witness on a daily basis people who are in wheelchairs with non-accredited dogs that aren't doing their job and aren't behaving, and they don't get bothered at all."
For all the discord between the various organizations, it's clear that weeding out fake assistance animals is a shared priority—though what qualifies as fake is a bit murkier. Untrained dogs wearing novelty service vests are clear no-nos. But what about private trainers who charge $10,000 to turn your pet into a service dog? Or well-meaning schools whose curricula focus on tricks rather than tasks? Or rescue-dogs-in-training who, due to their past experiences and temperament, may never pass the government test, but will continue to accompany their owners out in a service dog capacity anyway?
As was the case under the previous legislation,
there is currently no legal requirement for guide dog and service dog handlers to get certified. However, the public access ensured in the Guide Dog and Service Dog Act only applies to certified dog and handler teams. And, unlike the previous law, this new legislation does have the ability to fine fraudulent dog-handler teams up to $3,000 (though how they'll find and carry these out in public access situations remains unclear).
For his part, army veteran Pullen wants to see identification standards go a step further, with vests and leashes colour coded based on the dog's specific job, be it a guide dog, a service dog, a diabetes or epilepsy alert dog, a therapy dog, or a PTSD dog.
Colour codes aside, Pullen's pup Cooper could soon lose the "in-training" from his own service dog vest. Both the Citadel Canine Society and Pullen feel Cooper is nearly ready to take the government's certification test. And over at Leash of Hope, Main is preparing to take the organization's first group of graduates through that same pass/fail assessment later this month. She's confident that each of her rescue dog and handler teams are worthy of certification.
It remains to be seen whether, after the teams have attempted their 40 tasks, the Ministry of Justice agrees.
This article appears in the Winter 2016 issue of The Spin alongside other amazing SCI-related articles including:
Call Me Taylor – A Peer's Story of Transitioning and SCI
Hello, Winter – A Guide to BC Winter and SCI
Michelle Stilwell – Balancing Family, Life and the Paralympics
Vitamin D and SCI
And More!