After his 2015 rodeo injury, Kevin Cunin didn't know if he'd ever be able to ride again. Thanks to his own perseverance and a little help from his friends, he's back in the saddle—and chasing down a career in cattle ranching.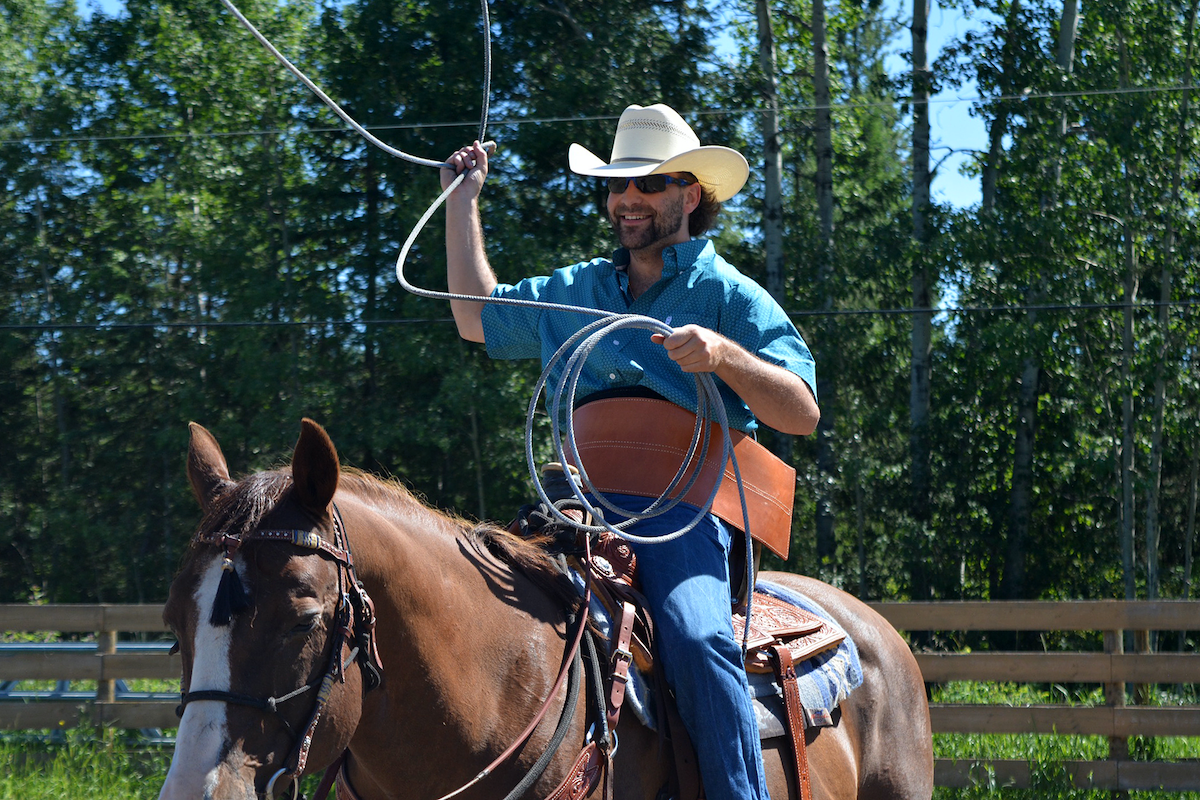 It was supposed to be Kevin Cunin's last competitive ride of the year. When his horse bucked him right out of the chute, it turned out to be his last competitive ride ever, at least as a bareback bronc cowboy.
But it certainly wouldn't be his last time riding a horse despite the extensive injuries he sustained in the accident, which happened during the 2015 Bulkley Valley Exhibition rodeo in Smithers. "I have a T4 complete injury," explains Cunin, who lives in Prince George. "I also had a stable fracture at C7, as well as five broken ribs and a punctured lung. I have two rods holding my back together, anchored by eight vertebrae in total, both above and below my injury. I was also diagnosed with permanent brain damage from the accident, but I never believed the doctors too much 'cause they didn't know how dumb I was before the wreck."
Cunin's sense of humour wasn't the only thing left intact after his accident. He still had his competitive spirit, a powerful work ethic, the perseverance that led to him becoming a rodeo cowboy in the first place, and a great love of horses and western life.
So it wasn't surprising that he began thinking about riding again shortly after his lengthy rehab—and then working toward that goal.
"The first time back was three years to the day after the accident," says Cunin, who is now 30. "I drove to Quesnel where my dad lives. I didn't tell him what was going on; I just told him I was going to look at a horse. I actually went to a therapy horse ranch and rode for a while. It was frustrating because I wasn't able to go ride like I wanted to. But it was also a great start and gave me a little confidence to believe I would again one day be back riding and rodeoing in the future."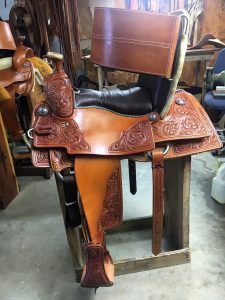 It didn't take Cunin long to figure out that a regular saddle couldn't provide enough support to allow him to maintain his balance, let alone throw a rope or ride at speed. After failing to find a specialized saddle locally, he connected with another injured rodeo rider in Texas who had started a business crafting customized therapy saddles.
He experienced a little sticker shock when he discovered the custom saddles, being such a specialized item, are expensive—about four times the price of a regular saddle. But to his surprise and pleasure, a group of local businesses, rodeo clubs and individuals took up his cause and helped him buy the saddle: the Smithers Rodeo Club, Intercoast Construction Ltd., the Quesnel Rodeo Club, Nomad Welding, Interlakes Rodeo Club and Clint Ellis.
"I had some amazing businesses come on board when I was looking for sponsorship to help make the saddle a reality, and they absolutely stepped up and were happy to help out," he says. "I wouldn't be where I am without their support."
Those who first saw the new saddle when it arrived in Prince George this past July were impressed to see the names of Cunin's sponsors etched into it, along with these words: Winners never quit. Quitters never win. "The saddle is similar to a regular saddle but it has a tall back on it with a large wide leather strap that goes around my stomach to hold me in and stop me from flopping around," explains Cunin.
The first time he tried it, three friends were at his side to keep him steady. "The new saddle was also frustrating but rewarding," he says. "It's a completely different feeling from a regular saddle because you can't roll your hips while riding. But knowing that the guy who built the saddle was also a paralyzed athlete and able to team rope competitively, I just had to believe in the saddle and that it would be able to get me back to where I want to be—rodeoing and having fun."
Since that first ride, he's persevered and has become more and more comfortable in the new saddle, to the point where he's able to ride and even rope independently. "I have an absolutely amazing group of friends and supportive club members at the Prince George Rodeo Association that help me get on and off the horse," he says. "Eventually, with the right barn or arena set-up at home, I should be able to rig up a system to load independently, although I will probably not ride alone again just in case something happens to the horse. I could be in a really bad situation and, at least with someone riding with me, they could go get help."
Making the transition to the new saddle was made all the more easier by a new horse.
"I was able to get an older, bomb-proof rope horse out of Alberta that really takes care of me and knows his job. Horses are pretty special animals and they have a sense of what's going on. He acts differently when it's me riding him compared to someone else hopping on his back."
Throughout all of this, Cunin has been working full-time in the forestry industry. But he'd been dreaming about operating his own cattle ranch since his injury.
"After my wreck and getting out of the hospital, I moved back with my partner at the time to her parents' out in Vanderhoof," Cunin says. "They had some cattle, and I got into learning about ranching and cattle, because I didn't grow up around it. I needed to learn some basics with some more in-depth knowledge to see how I could make an operation work for me so I could still ranch and rodeo given the skills, as well as the restrictions, that I have."

So two years ago, he decided to enrol in the Applied Sustainable Ranching Program at Thompson Rivers University Williams Lake campus. He's currently in his final year of the program, taking classes remotely from Prince George while he continues to work. And he's also started work on his own ranch, on land he recently purchased outside of Prince George. With the help of business partners, he's already bought livestock and is forging ahead with his plan to build an energy and cost-efficient cattle operation.
"The eventual plan with the ranch is for it to be able to financially support myself so I can live the lifestyle I want and have the freedom to live a life I enjoy," says Cunin. "There are many different hurdles that are encountered on a daily basis. Some are simple and some are more complex. Most of the issues can be overcome when thought of in a different way than an able-bodied person looks at it. These hurdles are absolutely worth tackling so that one day I will be able to have the freedoms and lifestyle that I want and am working towards."
Riding, roping, running a cattle ranch—these are all ambitious goals for anyone, let alone someone with an SCI. But Cunin is already back in the saddle, and given that, we have no doubt he'll complete his cowboy comeback.
"I have never been very naturally gifted with any God-given ability except being able to work hard and have some work ethics," he says. "I think I was lucky to be raised by two extremely hardworking parents who didn't just give my brothers or myself much in the way of a handouts—they showed us that anything is possible if you're willing to work for it. They gave us a great life, but showed us through their own work ethic that anything is possible. There's no doubt not all activities that a person did before their injury are possible or look the same, but new doors will open. There isn't a lot in life that a person can control except their attitude—it's the one thing they can control, and that can have the biggest impact on their lives moving forward."
This article originally appeared in the Winter 2020 issue of The Spin. Read more stories from this issue, including:
UTI & Pressure Injury Treatment
Research on Exercise and Pain Management
Winter Activities from our Community Partners
And more!
Read the full Winter 2020 Issue of The Spin online!