We recently connected with our friends and long-time supporters at Macdonald's Home Health Care to learn more about their Complex Rehab Team. Read on to discover what they offer, who they are, and how they can help you!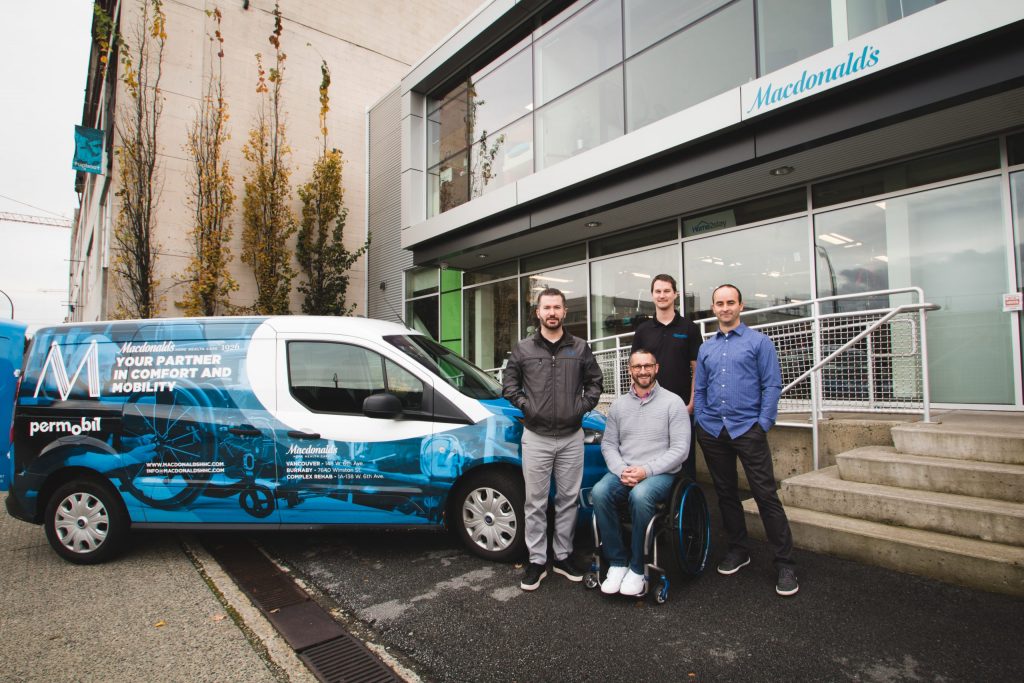 First things first, what is complex rehab?
Our Complex Rehab Team was built to meet the needs of clients who require the most specific equipment and supports. We work daily with clients who require customization to commercially available equipment, custom design, alternate methods of drive control, and more. Our team brings over fifty years of combined experience! And this allows us to tackle problems from multiple perspectives to better understand the needs and goals of our clients.
What services does complex rehab provide?
We provide assessments and equipment trials in conjunction with OTs and PTs in order to determine client needs and confirm equipment specifications. We work with clients and their prescribers to help obtain funding for their equipment purchases. Once ordered and built, we're involved in every aspect of the equipment delivery and fitting! We work tirelessly to ensure the proper fit and function of mobility bases and seating systems, along with the calibration of any alternate drive controls.
Our company was built around great follow-up and after-sale service. This remains at the core of our practice to ensure clients remain comfortable in their equipment and that their mobility goals are constantly being met. Over and above common services, we're able to provide custom CAD design of parts and chairs, custom fabrication (including 3D printing, 3D scanning, and CNC milling), custom power actuation, sporting equipment, and more!
Meet the Complex Rehab Team
The Macdonald's Complex Rehab Team is comprised of a few key members: Anthony Purcell, Erik Hagreen, and Graham Denison. Learn more about the team below!
What do you think you bring to the team? What's your expertise?
Anthony: I was injured back in the year 2000 so I think I offer our clients the perspective of wheelchair user and years of experience providing high-end equipment. I also think I'm hilarious.
Erik: I've been doing this for nearly 25 years and have been fortunate enough to attend 3 Paralympic Games as a technician. All of that has taught me the importance of producing only the highest quality work (and the importance of checking on Anthony to make sure he fills out order forms correctly).
Graham: I've been around wheelchairs for my entire life so I've always had an appreciation for the role that mobility equipment can play in someone's life. As a result, I bring a passion for helping clients meet their goals. I've also done a lot to keep Anthony alive and well while playing War Zone – it should be team bonding but really I'm just carrying the team.
How did you end up in this line of work?
Anthony: My spinal cord injury provided a natural transition into this sort of work and my personal experience with equipment provision left much to be desired – I knew there was a better way to do things. Working with the organizing committee of the 2010 Winter Olympics is what brought me to Vancouver.
Erik: I grew up in Prince George and my dad worked with wheelchair users which always had me interested. Eventually I found myself playing wheelchair basketball and working with a wheelchair vendor up north before my move to Vancouver.
Graham: It's a family story for me as well: my father is a PT and deeply involved in the world of equipment provision, so I've been around it my whole life. I grew up racing mobility scooters and powerchairs at many of my birthday parties which led me to develop an interest in the equipment itself and the industry surrounding it all.
What do you love most about complex rehab?
Anthony: I love bringing mobility and independence to the people I'm fortunate enough to work with every day.
Erik: Building something that can change lives is what I look forward to every day.
Graham: It has been really rewarding to help clients gain independence with the work that we do.
How can people get in touch with you?