"Are you a rookie, emerging foodie, or an expert chef? Your level of expertise doesn't matter. These evenings are for fun mingling, while learning about and creating good food." SCI BC peer and guest blogger Alexis Chicoine ventures into the wonderful world of group cooking.

For as long as I can remember, cooking and nutrition have been a part of my life.
I've been preparing dinners and baking goodies since I was a little kid. (FYI: Angel Food Cake recipes should not be tackled by a 10 year old with no parental guidance—think flour-based hockey puck.) In my teen years my Mum asked us to step up and each take one night a week to cook. I pored over cookbooks to decide what I was going to make—yes, this was how one found recipes before the internet—and I can happily share that no one died from food poisoning.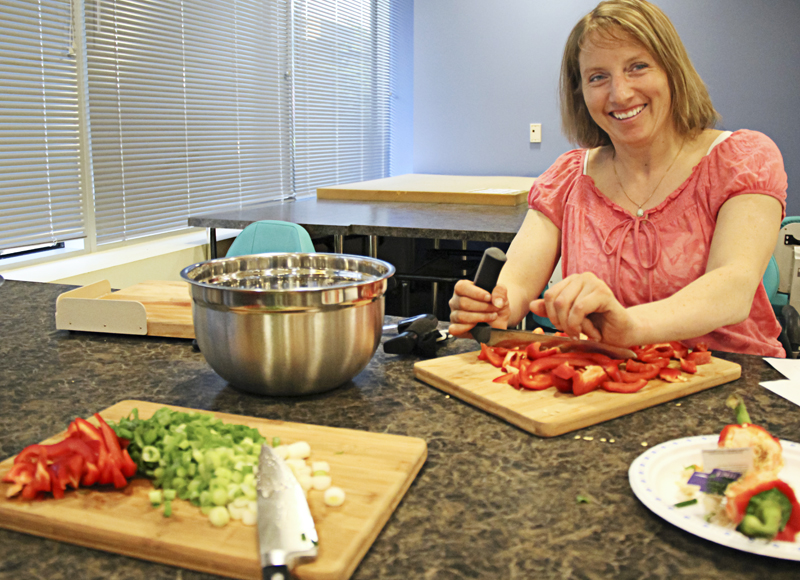 Since then, my degree in Nutritional Sciences and years spent running a coffee house have continued my interest in the benefits of good food. But don't get me wrong: though I do fully believe in the benefits, like many I don't cook from scratch too often. Work, fun, volunteering and a healthy dose of standard laziness get in my way. So, when a year or so ago I saw an email from SCI BC promoting new cooking classes, I jumped at the chance to attend.
My first time out I didn't expect that there would be enough food for everyone; I thought it would be a group setting where we would merely watch and learn. Turned out we would be working together to dice up a meal that fed us all. Since then, the classes have become an excellent excuse to gather with like-minds—to socialize while chopping and stirring and eventually eat up the fresh food with jokes and laughs being tossed around.
The camaraderie keeps me coming back.
At the beginning of each evening a nutritionist leads a quick talk on the health benefits that are linked to the food one eats, but with a spin on how it particularly relates to those with a spinal cord injury. These lessons provide solid, straightforward information that any person can keep in mind in their daily lives.
Last session, Kari McDougall presented the topic of "Overall Health for SCI". We had great questions flying, while Kari chatted away. Participation is encouraged, so anyone and everyone with thoughts or questions can join in to get clarification and even add their own personal experiences.
Kari noted that we should all be including the following in our daily consumption, in varying quantities:
Proteins

2-3 servings a day
Serving size = the palm of your hand

Fruits
Grains

1 serving a day
Serving size= ½ cup or 1 slice of bread

Lentils/Legumes

1-2 servings a day
Serving size= ½ a cup (cooked)

Vegetables

5+ servings a day
Serving size= ½ a cup

Fats

2 servings of healthy fat a day
Serving size = 1 tablespoon of oil or a golf ball size of nuts and seeds

Fluids

Drink 6-8 cups of water/fluids a day
Serving size = 1 cup = 240 ml / 8 oz
Then we got to cooking! On the menu: Cauliflower Lentil Tacos and Raw Triple Berry Crisp!
We headed to the tables with recipes in hand and gathered the ingredients that SCI BC had picked up already. Many of us have preferred activities—some chop, some measure and stir, some help at the stove tops or ovens and some even jump at the chance to keep everything tidy as we demolish the kitchen. (It is even totally okay to sit back and simply enjoy the company, while dinner gets created around you.)
The taco stuffing was a mixture of cooked lentils, finely chopped cauliflower, onion and a few other spices. The cauliflower got special attention this evening because a friend's son joined in the fun to press the buttons on the food processor…much to his delight. Once all was warmed on the stove top, and tucked into taco shells or rolled in lettuce, these babies were gobbled up quickly. Who knew that such a combo of ingredients could be so good?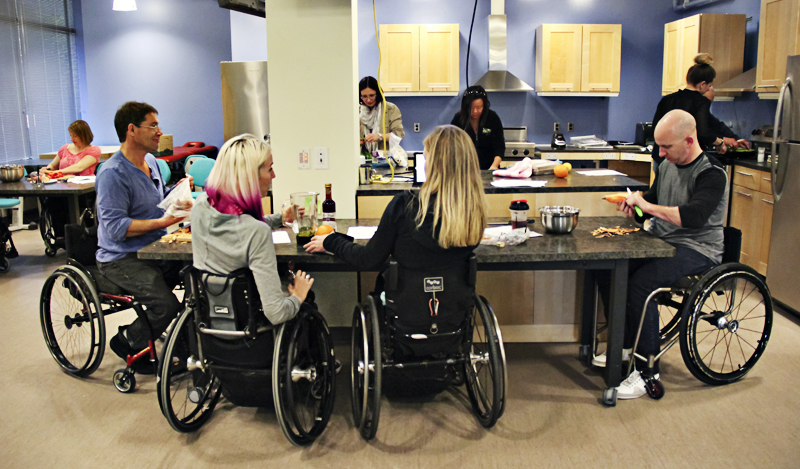 As for the Triple Berry Crisp, I have cooked up warm fruit crisps many times—which I love—but raw oats on the fruit? I admit, I had my doubts. Well, I was proven wrong—the dessert was fantastic! We topped fresh juicy strawberries, raspberries and blackberries with a crunchy blend of oats, nuts and spices, and sweetened it all with maple syrup. (Of course, it was also served with vanilla ice cream. Yum!)
So, if you were ever curious about what these nutrition-cooking-dinner sessions entail, I hope I've given you a "taste" of what goes on. (Sorry, I couldn't resist.) Are you a rookie, emerging foodie, or an expert chef? Your level of expertise doesn't matter. These evenings are for fun mingling, while learning about and creating good food.