New this year, post-secondary students with SCI taking summer courses in BC can take advantage of the Summer 2023 intake of the GRAGOPEAN Scholarship Trust.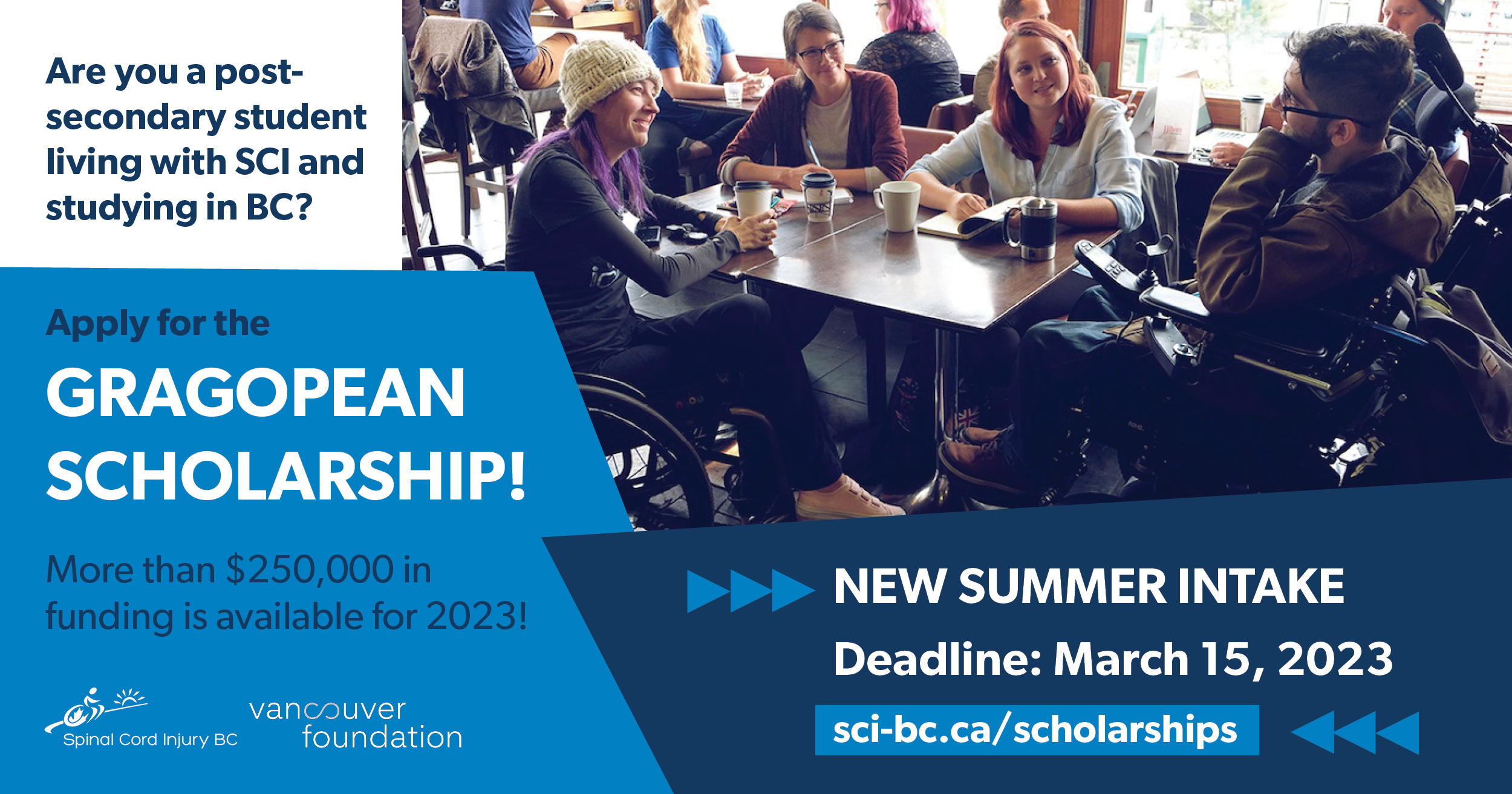 Since 2018, the Vancouver Foundation and Spinal Cord Injury BC (SCI BC) have been partners in administering the GRAGOPEAN Scholarship Trust. The Trust—established by Vancouver Foundation donors with a request that SCI BC manage the application and recommendation process—aims to promote the advancement of education of persons with a spinal cord injury in British Columbia. This unique award covers tuition and textbook expenses, and also supports additional supplemental costs related to disability, including transportation, housing, medical expenses and more.
We are excited to offer a new summer intake for students taking courses during the summer semester! More details can be found on our Scholarships and Bursaries page.
Meet our previous recipients and see how the GRAGOPEAN Scholarship Trust has helped them on their post-secondary journey!
"I was surprised to find that the form just requires basic information, and that it was all very simple and straightforward."
"The scholarship has been essential in helping me pursue my academic and personal goals by completely removing that financial stress. I've been able to move towards my re-training goal without the added stress of not working."
"The scholarship is exactly what I needed to take the next step in my career development. It gave me the freedom to do different classes at different schools and I would highly recommend it to anyone that's interested."
"Being a teacher is my dream job! I believe that the education I am receiving will allow me to be a good teacher; I will be well-versed, compassionate, and understanding of the students."
"Receiving the GRAGOPEAN Scholarship Trust from Spinal Cord Injury BC has allowed me to cut down my hours at my part-time job so that I can focus on my academics, as well as pursue my extracurricular interests in mental health advocacy."
"I've found it's good to stay grounded and remember everyone is on their own path."
Not taking courses for the summer? Stay tuned for details on how to apply to the GRAGOPEAN Scholarship Trust for the Fall and/or Winter 2023 term on our Scholarships and Bursaries page!