Over the last two months, we've witnessed two major events in the Lower Mainland focusing on employment for people with disabilities: The Neil Squire Society's Job Fair and the Project EveryBody Employment Forum. These events had different formats but they conveyed the same message: that the disproportionately high unemployment rate—46.16% according to Statistics Canada—among people with disabilities necessitates changes. And, that such changes often start with opening access to resources and information.
The sheer number of the attendees at Neil Squire's Job Fair, with the lineup of people waiting to get into the Firefighters's Public House, in Burnaby, stretching for several blocks, is indicative of the great need.
The Project Everybody Employment Forum on November 14 brought together several panels focusing on different aspects of finding a job. In the first, service providers discussed the services they offer, from customized employment services and retraining to resume writing and wage subsidies. The second panel included several employers who talked about the value (both economic and cultural) of the diverse workforce, the selection process, and the employers' expectations.
All the panelists emphasized that a lot of jobs are hidden—that a significant percentage of jobs exist outside of the official postings on the Internet. Here are some tips from the employers and employment specialists, and from SCI BC, that will help you tap into the pool of employment opportunities and make you really stand out: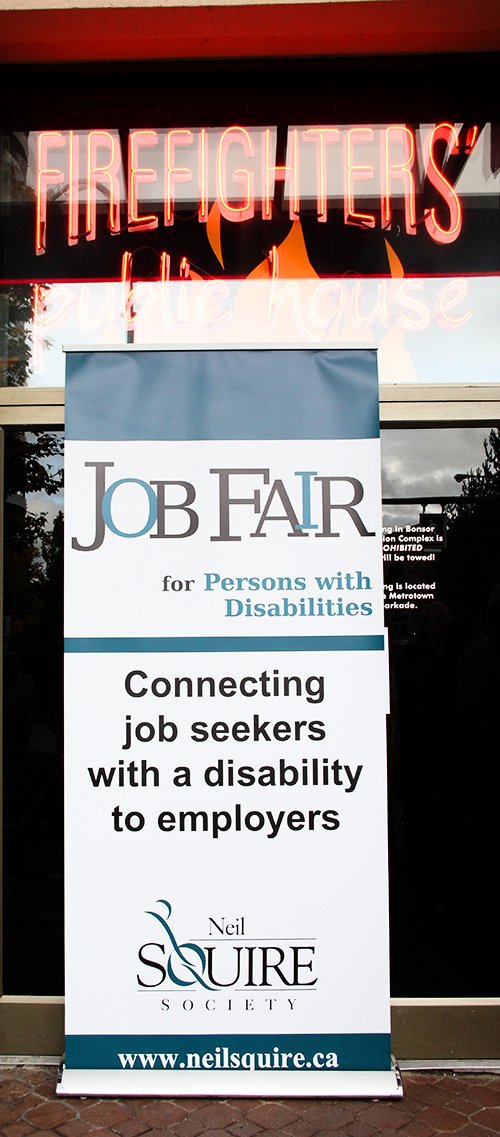 Network. This tool is one of the keys to finding a job but it is important to think of networking not just as a way to find a job but as an opportunity to meet new people and expand one's social and professional circles.
Attend informational interviews. These interviews are one of the best ways to gather information about an employer, ask questions and leave a good impression of yourself.
Research the organization you're applying for. Not only do employers look for the right skills and experience, they also look for a culture fit. Rather than sounding like everybody else, add a personal touch to your resume, and emphasize why your skills and values mesh with that particular organization.
Don't try to hide gaps in your employment history. Don't be discouraged if you don't have an extensive work experience. To paraphrase one of the employers at the Forum, sometimes it's better not to have any experience at all—there will be no bad work-related habits that the employer will have to deal with.
Ask someone to proofread your resume and cover letter. Just one spelling error can make employers think twice about hiring you. You don't want to be disqualified from the selection process because of small writing mistakes. And, it never hurts to get a second opinion on how to make your resume and cover letter punchier.
Demonstrate a positive attitude and enthusiasm. This is one of the top qualities that most of the employers said they desire in a candidate. After all, why would anyone offer you a job that it doesn't look like you really want.
Connect to a hiring manager; attend a local branch. This method might not land you a full-time job right away but part-time, on-call opportunities are a great way to get your foot in the door. In addition to that, revisit a 3-month old posting. Probationary periods typically lasts 3 months, and whoever got the job might not have stayed beyond that timeframe.
Utilize social networks. Platforms like LinkedIn, Facebook and Twitter are becoming widely-used job search strategies.
Strive for constant self-improvement. No one has ever done themselves a disservice by improving professionally, and personally. While you look for a job, or transition between positions, there are plenty of great online tools and webinars, as well books, to keep you occupied and constantly improving.
Check out SCI BC's Accessible Employment Page. There, you'll find a wealth of resources relevant to your job search as well as the most current job listings.
Fortunately, finding a job today is likely much easier than it was just a few years ago. At the recent Employent Forum Christian Saint Cyr, author of the BC Labour Market Report, provided interesting and optimistic statistics regarding the predicted growth of the BC economy and the resulting influx of new jobs in many sectors of the economy. Saint Cyr expressed his confidence in the increased openness of the labor market to underrepresented minorities, including people with disabilities.
Morever, the Public Service Commission of Canada (PSC)—responsible for identifying and eliminating barriers in recruitment and staffing, and ensuring that equity group members are well represented in the federal public service — has good news for those interested in employment in the Federal Government. A common issue for applicants with disabilities is whether or not to disclose their disability at the time of application.  However, disclosing a disability when applying for a job in the Federal Government (through an online application process) is actually encouraged. Despite some people expressing concern that disability disclosure might overshadow skills, new hiring quotas and position openings may give people with disabilities a needed edge in the application process.
People with disabilities have been historically disadvantaged in the labor market due to the dominance of the Medical Model, which sees individuals with disabilities, who have not been somehow treated or cured, as unable to adequately participate in the paid labor force (Jongbloyed, 2006). Due to the fragmented nature of disability income and employment policies, attempts to reverse the situation have been painfully slow and oftentimes unsuccessful. Hopefully, the Forum and the Job Fair will open up an important discussion—one that not only offers applicable job search strategies, but also addresses the underlying systemic reasons behind the unemployment of people with disabilities.
Reference:
Jongbloed, L. (2006). Disability Income and Employment Policies in Canada. In A. McColl & L. Jongbloed (Eds.),  Disability and Social Policy in Canada. Concord: Captus Press Inc.
What has your experience been as a job hunter with a disability? Do you have any job search tips for our reader? Leave your comments below.