Imagine living a life not knowing when Multiple Sclerosis (MS) will rob you of your physical functions and hijack your mobility. Guest blogger and poet Linda Tang takes us through the twists and turns of MS in the form of two poems—and reflects on the day-to-day interactions that make life in her "clumsy body" worth living.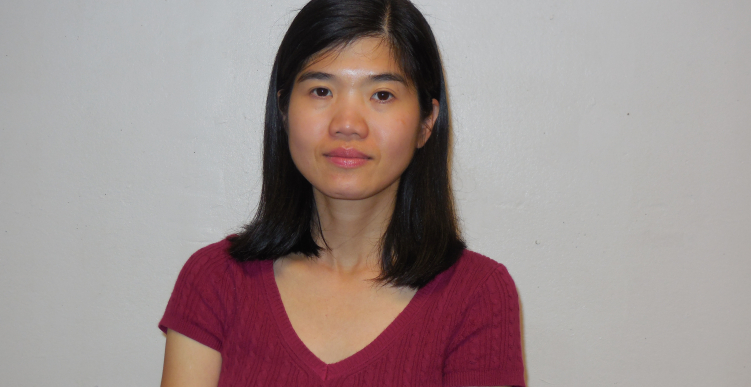 Multiple Sclerosis slowly crept into my life in 1998 when I began my second year in University. It was a struggle for me being torn away from my favourite classes, Literature and Linguistics. I had bouts of dizziness and blurred vision, and was sent to do a series of tests, including an MRI and a CT scan. I spent hours waiting in the emergency ward to see an army of doctors, nurses and other medical staff. I felt like the medical team had been working diligently to combat the invasion of MS in my life. At this time, my diagnosis was not yet confirmed but rather a 'suspicion' (as noted in my medical record by the neurologist).
Seven years later, symptoms of numbness surfaced to validate the doctor's suspicion, and my diagnosis of MS was confirmed in 2005. I was living under the mercy of MS for the following 10 years of my life as I began to establish my teaching career. There were moments of fatigue and low energy, but I seemed to have a workable relationship with this new companion in my life and was able to sustain my career for a few years until another relapse attacked.
Imagine living a life not knowing when MS will rob you of your physical functions and hijack your mobility. It's an insidious thief with whom I had to develop a working alliance for the first 10 years after my diagnosis was confirmed. It is a possessive partner who wants my abiding attention to its unreasonable demands for short working hours and frequent rest time in order to trade off for a sense of normalcy in my life. I had to learn about self-care and negotiation skills with this pre-disposed partner in my life.
I was born with the genetic predisposition of a disease that is predominant in the European population. Why would a Chinese woman who grew up in a tropical country have this genetic endowment? Whether it is a case of natural selection or a display of divine intervention, I no longer want to entertain my curiosity or devote my life to search for a miracle cure. I want to live when I can.
The turning point of my journey with MS occurred in 2016 when I fell on the sidewalk in my neighbourhood. One day later, I began to use my walking poles in my outdoor activities, and less than a year later, a walker was integrated into my inventory of mobility aids. For over a year now, it has become my loyal companion as I venture out in the world of able bodies. I am not alone when I leave the security of my home because I always travel with my companion to prevent me from falling, and yet, sometimes I feel a deep sense of loneliness when people stare at me with curiosity, as if they are trying to grapple with their cognitive dissonance. Why would a youthful looking person need to use a walker, a mobility device commonly used by older adults? Why does a symbol of vitality travel with an assistant for the aging?
Unlike my beholders, I am stuck with my own cognitive dissonance. Can someone see the spirit within me crying out the desire to walk, to dance, and jump for joy?
While this distorted body is visible to the eye of the beholder, the beauty of a living soul is trapped within it. I wonder who can see the person within this distorted body. I waited, and wait, am waiting for the day I become visible to another fellow human being.
MS is a distasteful partner. No one except for those who live with this disease can imagine the damage it does to one's innermost being. The body gets tired and the spirit succumbs to exhaustion after a relentless battle for the will to live. Sometimes, I get tired of feeling trapped. I desire to be released from this dysfunctional mismatch of nerves and muscles.
Yet what is left for me in this life is a clumsy body with a youthful countenance, a creative mind, and a desire to love and be loved. Love is a life force that sustains my being in this suffering body. A simple smile from a stranger, a gesture of kindness from a passer-by, an act of generosity from a fellow patient, and a listening ear from a friend I have never met all help sustain my will to live in this offensive body.
In my tormented relationship with MS, I am a fighter. Sometimes, I scream in anger. Sometimes, I retreat to quiet resistance in my despair. But I never surrender.
In the year since Linda shared her story and poem, Distorted Ability, she's reflected on her life with MS and her writing process. She recently shared a new poem, INvisible, with us and an update on her life below.
Writing is my therapy and a charming gift delivered to me from a mysterious source just as my living experience with Multiple Sclerosis.
Although I can't fully embrace my physical dysfunction as elegance, I can eloquently express the impacts of this debilitating illness on my life through my writing. I am trained as a language instructor and clinical counsellor. I briefly left my practice a few years ago to manage the progression of MS and the reality of physical disability in my life.
As I am planning to return to the workforce, I am presented with the challenge of accessibility in the city now that I need to use a mobility aid.
The conversation on accessibility is personal to me as it's relevant to my dignity and daily living activities. Accessibility is a human right obligation and not simply an accommodation for people with disabilities from any social institution.
Bill C-81, the Accessible Canada Act, is indeed a turning point in the effort to build an inclusive Canada.
Distorted Ability
Published September 13, 2018.
Swallowed by grief,
Run, run, run …
Away from my suffering –
Pain, sorrow, despair, betrayal, anger, hope, joy, tears and laughters –
Disability – A new concept.
HELP!!!
Who can help me?
Who is willing to help me … live with
The new person in me?
My designation,
Person with Disability.
I have been in school for many years…
To get a few credentials.
I now receive a new title,
Without any education.
I have met Compassion … in strangers.
I have seen sincere Love … in new friends.
I have said goodbye to strangers … whom I used to call friends.
I have found my sanctuary –
A hospital;
A participant in a research lab.
Help given – with care and dignity.
I walk in strives:
2500 strives per hour – on the elliptical.
Quite an accomplishment,
For someone – Who walks with 4 wheels.
I stay with my sorrow.
I embrace my pain.
I dialogue with my fear.
I rejoice with my courage.
I celebrate my milestone …
In every day I live…
This new life, with disABILITY.
INvisible
Published September 11, 2019.
I am invisible when you talk to us but fail to look at me.
I am invisible when you see me but do not look me in the eye.
I am invisible when you greet me with a "hi there!" without calling my name.
I am invisible when you hear my voice but fail to listen to my words.
I am invisible when you make it your mission to speak for me.
When you listen with your heart, you will see
my fear of being rejected;
my anxiety to ask for help;
my anger for being excluded.
What is the dimension of your heart?
Does it have room to accommodate
a dysfunctional body and a ramp for the mobility device
that accompanies the person travelling along?
What is the size of your heart?
Does it contract when my presence becomes a threat to you?
My heart sweats when you stare at me with your probing eyes
to investigate my legitimacy to co-exist with you
in the public space.
What is the color of your blood?
The color of my blood is red… and it turns dark
when I feel unwelcome in an inaccessible world,
where doors are heavy for me to push;
washrooms are too small for me to enter with my walker.
I have a heart residing in my distorted body,
and it beats rhythmically when I decide to continue
breathing, eating, sleeping, and dreaming
in a world that I remind my fellow human beings
moment by moment
that I do exist.
Have you experienced life with MS or another life-changing disability? Submit your own story to be featured on our blog.