We talked to six people from across the province who are breaking down barriers in unusual sports, hobbies or passions. Here is what they learned along the way!
Wheelchair basketball and photography are all well and good, but have you ever heard of drone racing? What about adaptive boxing or Sashimono? Our SCI BC Peers are always up to something interesting and we wanted to learn more about their passions and hobbies that are truly outside of the norm!
LEO SAMMARELLI — T8 | Vancouver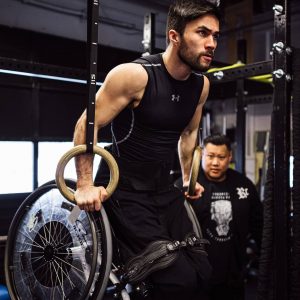 What's your unique passion?
Wheelchair adaptive boxing.
How long have you been doing it?
I started teaching my adaptive boxing class in June 2019, but I've been boxing for a total of 10 years and teaching for three. The class came out of my passion for boxing and a desire to introduce the sport to others.
How did you get involved?
I was introduced to boxing through my uncle in Italy and fell in love. Before my injury, I was a high level boxer with national and international titles, including Canadian Lightweight National Champion, three-time Golden Gloves Champion, and Italian Inter-regional Champion. My goal before my injury was to make it to the Olympics and become a world champion in professional boxing. After my injury, I was encouraged by my family and friends and my boxing community to get back into the sport. I see boxing as a type of rehab and a great way to stay active and athletic. I'm motivated to continue by my love for the "sweet science" and my personal mantra: "Can't stop. Won't stop." And that's why I decided to create the West Coast Wheelchair Adaptive Boxing Society.
What do you love about it?
Boxing is not only an all-around sport; it's a spinal cord injury sport. Since I returned to it, I feel better mentally, physically and emotionally, and have gained movements I never thought I would still be able to do. Boxing is a great core and fat-burning workout. It's one of the most technical sports I've ever done. When you're in the ring or training, you're really living in the moment. I love that.
What adaptations did you require?
I've had to learn different techniques in punching and defences. In class, we adapt each move to the individual. For example, we look at each athlete's level of injury and find the most effective way to deliver punches, hooks or uppercuts with balance and stability.
How can readers learn more and get involved?
All levels are welcome to learn! We train at Raincity Boxing in Vancouver with boot camp-style classes that focus on conditioning, strength and movements. We cover techniques for punches, combos, defence, chair skills, partner work and more.
Leo (pictured right) welcomes your questions—connect on Instagram or Facebook, or call him at 778.836.5406.
What's your unique passion? 
Snowmobile racing and snowmobile freestyle. 
How long have you been doing it? 
I think I was four or five when I got on a snowmobile, but when I moved to Yellowknife with my family is when I really got into freestyle stuff and racing. After my accident in 2009 I knew I wanted to get back out there and I've been back on the snowmobile since I got home after rehab.
How did you get involved? 
My whole plan before my accident was to go to the X Games for freestyle snowmobiling, but then I couldn't. While I was in rehab I learned that they were going to have the first-ever adapted snow cross event for athletes with prosthetics and paralysis. There was a guy competing who had been paralyzed for quite some time named Doug Henry, who is an ex-pro motocross racer and had his snowmachine adapted to race. He helped me a lot when I started to adapt my own snow machine and he really got me back into the scene. I actually ended up being able to compete in the X Games in 2013 and that meant a lot.
What do you love about it? 
Just the thrill of being in a group of riders on the line and all racing into one corner, strategizing and passing to work your way to the front. It's physically and mentally demanding—you're so focused on the moment that you can't really focus on anything else. It's a great escape. I was never big into team sports and I like being in an environment that I feel free. Snowmobiling gives me that. 
What adaptations did you require? 
My snowmachine has been adapted for racing. It has a go-kart bucket seat, suspension, and an axle integrated into it so I can articulate left and right and do corners. We ended up with three prototypes before we got it right, but I've been super happy with it ever since. After making those changes my whole world opened up.
How can readers learn more and get involved? 
I'd suggest start by renting one and see if you like it. The throttle is on hand controls so you don't really need to make any modifications until you decide you want to start racing or doing freestyle. I'm happy to forward photos and information on adaptations and how to improve your technique or speed, but it's also important to recognize the risks that go along with that. My accident was a result of doing a backflip on a snowmachine, so there needs to be a risk assessment on everything you do. It's a powerful machine with powerful results, but I love it. 
You can learn more about snowmobile racing by connecting with Darryl on Instagram.
MARK SAUNDERS — T5 | Nanaimo
What's your unique passion? 
FPV (First Person View) drone racing. 
How long have you been doing it? 
I've been doing it for two years now. The drone racing league was becoming more prevalent on TV and I really liked the idea of flying without having any lag between what I see on my screen or goggles to what the drone is doing.
How did you get involved? 
I've been using remote control cars since I was a kid and it was something I have always had a passion for. I ventured into flying planes a few times, but they always seem to end up in trees. When I learned about drone racing, it seemed like the perfect fit. I started flying in fields and found a Facebook Group in Nanaimo with a few mutual friends who were involved. I met the group and started flying with people and learning lots. It's amazing to see how much better I've become over the years. 
What do you love about it? 
I love the feeling of flying, the competition of racing, and the act of getting together with people who enjoy the same sport. We've been putting on races for two summers now and it's been a blast. It was really cool to share this hobby last year at the Annual Peer BBQ in Nanaimo that Bert Abbott puts on. I had a spare set of goggles that I could pass around for anyone who wanted to see the live footage—it's great to get more people involved! 
What adaptations did you require? 
The sport of FPV racing is fully accessible. I haven't had to make any adaptations in order to get flying. If I do crash, my fellow flyers can help me get my drone. 
How can readers learn more and get involved? 
We have a Facebook Group that you can join to learn more. I also did a lot of research on drones via YouTube. 
You can learn more about FPV drone racing by emailing The Spin at thespin@sci-bc.ca.
RON HOLMBERG — T11-12 | Fraser Valley
What's your unique passion?
Custom woodworking and Sashimono. Sashimono is a type of Japanese wood joinery where each piece of furniture is made by a single craftsperson with just their hand tools, from start to finish. 
How long have you been doing it?
I've been woodworking for 15 years. 
How did you get involved? 
I was drawn to the handcrafted, hand-cut joinery aspect of the craft. I liked the idea of being able to really use my hands and create something. I learned most of my skills by going to the library and signing out books. I purchased tools as I needed them, one chisel at a time and experimented on personal projects. I also attended Inside Passage School of Fine Cabinetmaking in Gibsons, BC. Since then, I've started to work with hand-cutting dovetails, softening edges, hand planing and shaping all surfaces. I was introduced to Sashimono by my wife (who just happens to be Japanese and helped me translate books or articles to do a deep dive of understanding) and absolutely love it! I often use the Sashimono method in my work—no sandpaper, no nails, no screws or fasteners of any kind; even the brass hinges I use are handmade! 
What do you love about it? 
Everything! I love the incredible variety of hardwoods available to us. I love the tools and how careful, skilled hands bring out their potential. From sharpening blades and chisels to planing end grain with a properly sharpened iron and admiring the burnished surface on a coopered and tapered door panel, I love it all. Can you tell I'm excited about it? A person can't do this kind of work if your only goal is to make money. That's part of it, sure, but work like this is a true joy. I live in a great place and get to work at something I love and be close to my family while I do it. What more could one person want? 
What adaptations did you require? 
I haven't had to do a lot. I removed drawers from my workbench so I can roll under it and always practice good shop and tool safety. When I purchase equipment, I always make sure to keep in mind my prerequisites—things like making sure a band saw table is lower to the ground. One of the biggest challenges for me is hand planning. I have to keep my projects a manageable size and I have to plane with my hands and elbows up high, which makes it harder to use my body weight and get the full force behind each stroke. But, like most other people in my situation, we adapt. 
How can readers learn more and get involved? 
I hope someone out there might see a little of what I'm doing and realize it's something that they can do too! 
You can learn more about woodworking and Sashimono by visiting Ron's website.
SYDNEY SPRAGGS — MS | Vancouver
What's your unique passion? 
Dragon boat racing. 
How long have you been doing it? 
I have been dragon boating for ten years.
How did you get involved? 
In 2004, I moved back to Vancouver after retiring from my career as a teacher and professor in the USA. I came back primarily to be with my sister who was living with MS. I too had been diagnosed with MS in 2000. I met my sister's nurse, who paddled with a dragon boat team, and I decided that paddling might be a very good sport for people who have MS. I went to the MS Clinic at UBC to discuss plans to start a team with an OT and a PT, and they encouraged me to go ahead with my plans and gave me names of people to contact to help fund the start-up costs for a team. I met paddlers that first summer, as well as a woman who was delighted to be our team coach. We were soon on our way and named our team Off Balance. 
What do you love about it? 
My favourite part of paddling is looking back at the dock when we're heading out to the creek and seeing our wheelchairs, scooters, walkers and canes left behind while we move freely over the water with just our boat and paddles to propel us. 
What adaptations did you require? 
About 10 years ago, I approached the Tetra Society of North America, who designed a seat with a supportive back to fit over the common seats of a dragon boat and allow paddlers who need extra support to participate. Adaptions can also be made to paddles to keep them secure for those paddlers who need extra help with grip. The Dragon Zone Paddling Club, where we practise, has accessible ramps and lifts to safely transfer people with disabilities onto the dragon boat. 
How can readers learn more and get involved? 
We encourage people to consider getting involved with our team by networking, responding to posters and by contacting the MS Society. Since the MS Society provides our start-up funds, the cost to individual paddlers, once they have committed to paddling with the team, is minimal. All paddlers with disabilities (regardless of whether or not you have MS) are encouraged to join! 
You can learn more about dragon boat racing by emailing The Spin at thespin@sci-bc.ca.
TYLER TINGLE — T4 | Kamloops
What's your unique passion? 
Drag racing and snowmobile racing.
How long have you been doing it? 
I drag raced cars for about 25 years and then made the switch to racing snowmobiles on asphalt for the last 12. I raced three different cars and trucks for many seasons and then got involved with snowmobile racing after buying one from a fellow racer. I thought it would be interesting to try something different that I hadn't done since I was 16 and something I never tried since my SCI. I loved the sensation of racing at high speeds with the wind in my face. 
How did you get involved? 
Soon after my injury, a lot of people told me, "You should play wheelchair basketball." But I didn't play team sports prior to my injury, so I wasn't that interested in playing them after. I was more into cars, motorbikes, fishing, and camping. After I left GF Strong, a friend was heading to the track and suggested that I come along to watch the racing. He knew that I could still drive and offered to help me work on a drag race car if I was interested in the sport. I ended up finding an old wrecked Camaro and things continued from there. By the way, I did end up playing wheelchair basketball for many years. 
What do you love about it? 
Racing got me back into doing something I loved that I wasn't sure I would be able to do after my injury. It was part of the process of getting my post-injury life back in a way that was close to what my pre-injury life was. 
What adaptations did you require? 
I put hand controls in my drag racing cars. Over the years, I went through a few different cars and trucks (including a specialty built drag race car!) and did all my own work on my vehicles. That connection to the car and getting the job done was something I really liked about racing. For snowmobiling, there wasn't a lot that needed to be done to make them rideable for people with SCI, but I did have to do a lot of adaptations to make them run on pavement. Things like wheels instead of skis, a different type of track for pavement, and go-fast parts (mechanical or engine parts that increase speed). The fastest pass I made on the snowmobile was 9.947 seconds at 136.19 mph (219.176 km/hr). 
How can readers learn more and get involved? 
Make sure you have a driver's license and then find a local track. There are tracks in Mission, Kelowna, and Prince George, and on Vancouver Island. Airports have also been known to use their space as racing tracks a few weekends during the year. A simple Google search will tell you what you need to know! 
You can learn more about drag racing and snowmobile racing on asphalt by emailing the thespin@sci-bc.ca.
Liked this story? Want to read more about the things our Peers are currently up to? Click here!
This article originally appeared in the Spring 2020 issue of The Spin. Read more stories from this issue, including:
Row For Health
Beyond The Hype
Major Milestone