There are lots of changes afloat at SCI BC. After a highly-successful summer of fun and friends, we bid adieu to three of our excellent team members, and hello to some new recruits!
Maya Pankalla, Communications Lead
As our Communications Lead, Maya touched the hearts and minds of thousands of SPIN readers, donors, and peers. Maya's kind heart, gentle curiosity and journalistic instinct has helped us to shape the SCI BC story over the last four years. Her keen eye for design and irrepressible quest for perfection was a gift to our SCI BC events, helping to create beautiful memories and joyful experiences for the members of our community.
For Maya's coworkers at 780 SW Marine, she leaves behind a legacy filled with spontaneous rooftop celebrations, mandatory group lunches, and 3-minute arms.
And, although it was a very tough decision for her to make, Maya is leaving SCI BC at the end of September, striking out on her own on a quest for the next adventure. We all wish her the best of luck in her new adventures, and look forward to cameo appearances at SCI BC events in the future, camera in hand.
Michelle Smith, Corporate Engagement Specialist
Goodbye, mate! Sadly, after her two-year work visa expired, our favourite Aussie has headed home to Sydney. Michelle spent the last year and a half at SCI BC—short enough for the time to fly by but long enough to make a lasting impression on all of us. As SCI BC's Corporate Engagement Specialist, Michelle threw herself into the role, forging corporate connections and quickly making herself at home in the SCI community. When she wasn't watching wheelchair rugby games or sledge hockey matches, Michelle could be found sweating it out on a wheelchair basketball team. Michelle also adapted quickly to life as a Vancouverite: she learned to ski, hiked every mountain, sampled every craft beer, and put the rest of us locals to shame. In work and in play, she was up for anything and always gave it her all.
Michelle developed a deep appreciation for helping others during her time at SCI BC, and this newfound spirit has positioned her well for her new role as Communications Manager at HireUp, an Australian online platform that helps people with disabilities to find, manage and support workers who fit their needs and share their interests.
Michelle will be missed, but we are all excited to have an Aussie penpal sending us rays of sunshine on those dreary Vancouver days.
Gabe Chesman, Digital Communications Coordinator
Best known as the brains behind SCI BC's Facebook and Twitter posts, Gabe has moved on after spending two years helping us tell our stories. We brought this American ex-pat to SCI BC first as a volunteer, curating content from the internet to find the latest on SCI research, innovation, and news. In 2017, Gabe started as SCI BC's Digital Communications Coordinator, spending many mornings mastering the maddening idiosyncrasies of Mailchimp, and afternoons working to support the comms team and its ever-growing list of communications needs.
Gabe's social media know-how, poignant writing, and wry sense of humour breathed new life into our social communications. His knack for words and unique perspective elevated our messaging, helping us reach and engage even more Peers around the province. His social media and writing skills will be definitely missed, as will Gabe himself. We will certainly miss the flair that he brought to the team and we look forward to seeing him at SCI BC events in future…this time as a guest!
Terry Chen, Corporate Engagement Specialist
A big SCI BC welcome to Terry Chen, who has taken a leap of faith to join our crazy team of do-gooders at 780 SW Marine Drive. Terry will be our new Corporate Engagement Specialist, replacing Michelle in the role. Terry comes to us from a diverse and eclectic background that includes a Masters of Management, a BA in music, and a short career as a bicycle mechanic. Sounds like he'll fit right in, am I right? Terry joined us on September 10, and is already both suitably overwhelmed and loving the job. Please reach out to Terry for Spin advertising, corporate giving opportunities, or maybe a piano lesson!
Jenna Wright, Provincial Events Lead
Jenna will be joining us on October 1 as our newly-appointed Provincial Events Lead. On that date, Jenna will magically transform into the wizard that brings our Metro Vancouver Peer Program events to life, and will be supporting our regional staff in planning their events and activities. Jenna is a Recreational Therapist by training, and has tons of experience facilitating amazing recreational programs for both children and adults. We poached Jenna fair and square from Power to Be, where she spent the summer taking people with disabilities kayaking, hiking and camping—including our very first SCI BC Learn to Camp event this past August. We're pumped to have Jenna on the team and already have a mountain of super fun work waiting for her!
Micaela Evans, Communications and Events Coordinator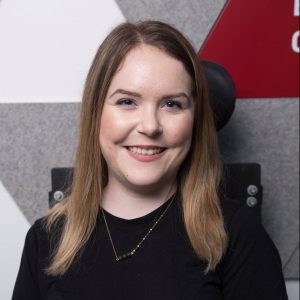 Not actually a new face at SCI BC, Micaela joined us as summer student this year after receiving her BA in Gender, Sexuality, and Women's Studies from SFU earlier this year. We liked her so much, we kept her on for the Fall as our Communications and Events Coordinator. Micaela has been supporting the Communications and Events teams with social media and blog posts, donation requests, and ongoing campaigns. Her contagious up-for-anything attitude, digital savvy, and personal connection to the disability community make her a fabulous addition to the Vancouver office.
So, lots of changes for SCI BC, but you don't get to be around for more than 60 years without being open to new opportunities and most importantly, a commitment to a community that we love to serve!