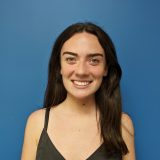 Administrative & Operations Assistant
Vancouver, BC
604-326-1212
Sarah Mc Enaney
Sarah Mc Enaney is SCI BC's head office administrator, operations and finance assistant. Sarah has joined the SCI BC's team in 2022 and is extremely grateful to be working along side such inspirational and hard-working people. Growing up, Sarah loved helping others. She has previously worked as a special needs assistant alongside with working weekends as a care assistant in a nursing home. From there, Sarah decided to gain office experience and has spent the past 3 years in a well-known professional accounting firm in Ireland.
Sarah is from Ireland and is completely wanderlust. After spending time working as an administrator in an accounting firm, she decided it was time to spread her wings and relocate to a different country. This gained more experience for her while working in a multi-cultural and diverse organization.
When Sarah isn't sitting at her work computer, she endlessly enjoys hiking, sea swimming, camping and the gym. Sarah has played Gaelic Football all her life and has joined a team in Vancouver where she enjoys both the social and fitness aspect of playing in a new country with a new team. A big love for Sarah (if you haven't guessed already!) is travelling. Any free time, she is booking the next vacation to see different areas of the world and gaining cultural experiences and memories that will last forever.