Some of the most thoughtful gifts are those that show how well you understand the recipient – so here at SCI BC we've pulled together a few of our favourite accessible things for the person with a spinal cord injury or disability in your life.

This list is aimed at a more affordable price point, so no $30,000 gold-plated wheelchairs here!
Attractmount
A recent design project supported by 77 backers (full disclosure: I was one of them), this super strong magnet mounts on any wheelchair or bike frame using a silicone strap and acts as a mount for your phone, keys or whatever you attach the handy metal fob to.
It's rare to fine a mobile phone accessory designed with wheelchair users in mind!
Chalk Bag/Mobile Phone/Key Holder
Climbers know these soft-sided bags for holding chalk, but they make great all-purpose mobile phone and beverage holders on manual wheelchairs. They come in a variety of colours, they are hard-wearing and rumour has it they hold an open beer pretty well too!
Price: $16 – $30 CAD from MEC.
If you're after something a little more secure (if you lift your chair into your car, etc.) you can try this minimalist phone/water bottle holder.
Push Button Air Compressor
Every wheelchair user with pneumatic tires should have a tire pump around, but they aren't the easiest to use. This air compressor pump is quiet (ish) and takes the guesswork out of proper tire inflation – just select the PSI or tire pressure you're going for (use the pressure on the side wall of your tire as a guide) using the buttons and display on the side, press start and the pump does the rest!
It's slightly more expensive than the average air compressor tire pump, but comes with 12V or 120V power adapters, valve adapters for a variety of tires and balls, and is completely portable.
Wireless Charging Pad
Sometimes the smallest things make the difference, and if you don't have great dexterity it can be a pain to fiddle with your phone or tablet to charge it up.
Wireless charging pads have come down in price significantly – you can get one on Amazon from reputable smartphone accessory manufacturer like Mophie.
X Box Adaptive Controller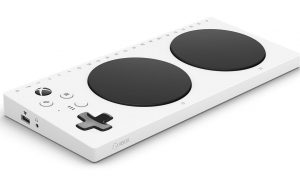 Gaming hasn't been the most accessible – adapted controls were always the niche of expert PC gamers or bespoke options designed for a particular gamer's needs.
Microsoft's Xbox Adaptive Controller changes all that by creating a system that's both broadly useful and customizable for your own needs, and compatible with the widely used Xbox One console.
Lip Sync
The Lipsync is a mouth-operated joystick that allows a person to control a computer cursor or touch screen device with a minimum of head and neck movement and with little or no hand movement.
Developed by the Neil Squire Society, this device is open-source and can be created through a makerspace near you.
Light Up Wheelchair Casters
No time like the present to party like it's 1999 this new years eve… with light up wheelchair casters. Let's face it, everything lights up these days, why not your wheelchair?
A great way to be seen at night and add a little disco to your ride in a way that doesn't require batteries or an on-off switch, these casters dazzle even at regular wheeling speed. The light up casters come in casters from 3" to 6" in diameter, and 1" and 1.25" wide with 8 LED lights embedded in each caster.
Wine Glass with Built-In Straw
The holidays often involve some form of merriment, and there's a definite lack of options for quads when it comes to wine glasses.
This wine glass features a built in straw for sipping. The straw makes a loop with the goblet that may also offer more options for grasping your wine glass while requiring less hand function.
C-Shaped Full Body ('Pregnancy') Pillow
Not just for pregnancies anymore!
These cushions are helpful for people who have positioning needs in bed, and for people who need to be able to roll over with their cushions in place.
Velcro Knee Strap
The solution to a common SCI-related complaint – knees not staying aligned while seated! From one of our favourite adaptive clothing companies here in Canada, IZ Adaptive.
This strap is designed for that exact issue, and at an affordable price! Perhaps this isn't the gift to get a friend, but to treat yourself instead? Or, for this price, you could do both too!
Mezzaluna Slicer
You can't have a gift list without something for the kitchen on it!
This is a knife that can be used with only one hand, therefore it's accessible for people with minimal dexterity to mince and dice with stability and ease.
USB Charger/Adaptor for Power Wheelchairs
Never again get stuck without power for your smartphone or tablet!
Charge your device while on the go from your wheelchair's battery. The wheelchair or scooter can be driven while charging the device as well.
Sixth Digit Ring Stylus
Designed by a person with a SCI to aid those with limited hand function in using modern electronics devices by providing the required precision for typing, using touchscreens, and pressing buttons without needing to grasp a stylus or point a finger. Provides the necessary rigidity and extension for typing on keyboards and pressing physical buttons on everyday devices, such as household appliances.
What do you think? Are you going to shop for yourself or others' accessibility needs and wants this holiday season? Or do you know of other accessible items you'd recommend to your Peers? Let us know!