Our online SCI Info Database started in 2010 and has been growing ever since! Now you can view over 1,000 resources on how to live well with a spinal cord injury or related disability. They can help answer questions for everything – and we mean everything. Check out our top 6 most popular resources below to learn more!
Our SCI Info Database is monitored and updated by our wonderful InfoLine staff, Heather Lamb and Bert Abbott. Combined, these two have decades of lived experience and expertise working with the disability community. In this blog, they take us through some of our most popular resources and explain what they are and how they might be able to help you.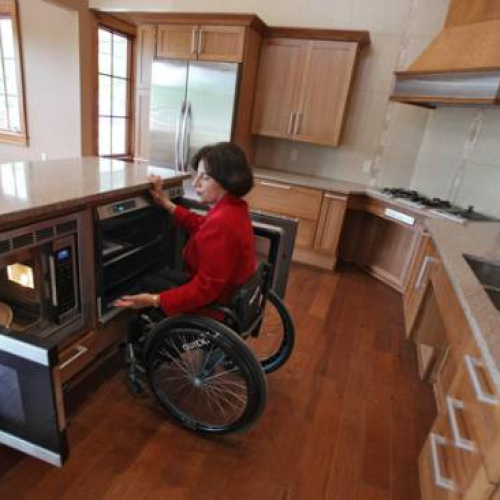 "Housing is one of the #1 requests we get through the InfoLine. Accessible housing is in short supply so when people call to ask about it, it's usually a necessary, immediate request. Housing is a very basic need and it's hard to look further than that if those needs aren't met, so we try to help in any way we can. We have good resources, but most of the time it's a bit of a long road for everyone. When we're able to match people with housing, there is such a sense of relief and happiness for them." – Heather
"If we don't have the answer, we're going to look for someone who can help. We're not going to leave you hanging." – Bert
SCI BC's Marketplace
Our Marketplace is a one-stop online hub for buying and selling SCI-related equipment, accessible housing, or posting job opportunities. The Housing section shares BC housing opportunities for sale or for rent, and also includes subsidies or co-op housing options. The Swap 'n Shop section is for anyone looking to sell or buy medical equipment. This includes wheelchairs, vehicles, recreation equipment, bed lifts, seatings pads—a little bit of everything! The Employment section is a place for employers to share job opportunities with the disability community. We do our best to list accessible opportunities, but it's ultimately up to the job-seeker to make sure the job will be the right fit.
"The majority of people who are calling in have a great piece of equipment that they've replaced—and they want to sell or give away their previous model out of the goodness of their hearts. Other people will call in looking to find things like wheelchairs, handcycles, commodes and beds. So I'll direct them to what's in there, and what the good buys and freebies are at the time." – Bert
"Making connections between people in need and those who have equipment is a huge benefit of the Marketplace. We get calls from people who want to donate.  They go onto the site, and when they get connected with someone else, they're really excited. Personally, I've seen a lot of things on there that I think, 'wow that's a great deal!" – Heather
Choices in Support for Independent Living (CSIL)
Choices in Support for Independent Living (CSIL)—pronounced "SEE-sul"—is an alternative way for people with disabilities in BC to receive home support services. The goal of CSIL is to provide more choice and flexibility to people with disabilities who have high-intensity care needs. You can learn more about CSIL and read our step-by-step guide on the program, here.
"We know how the program works, and we can work with people to help them navigate through the modules." – Bert
"Yes, it's one of those programs that not a lot of people know about it, but once they hear about it they want more information. It's a little complicated so our guides go through things step by step. There is a lot of nuance to the program and its not for everyone, so it helps that we're here, we can walk people through it on the phone. It takes work to run the program, but it can meet some people's needs very well." – Heather
Recreation & Travel
Worried about travelling or interested in taking up a new recreational activity? Our Recreation and Leisure resources in the SCI Info Database can connect you with local organizations, provide tips on how to access equipment, outline accessible destinations and more. Plus, we also have an extensive array of travel videos, blogs, and stories from people with SCI to help you feel confident embarking on your next journey.
"We get a lot of requests for information about recreation and travel in the spring in preparation for summer. We refer people to our Access BC site, our blogs, our travel guide and we can also give them a list of hotels, ideas about where they can rent a van and so on… These things are all in our database, but we're happy to help plan the basics for their trip using these resources as well as inside knowledge and personal experience." – Bert
GF Strong Rehabilitation Centre
GF Strong Rehabilitation Centre is the largest rehabilitation hospital in British Columbia. It is often one of the first places people visit after their spinal cord injury, and it plays a very important role in adjusting to life after SCI. SCI BC has an office at GF Strong (located on the main floor) and we are always happy to chat or answer any questions you may have! Stop by and say hello.
"GF Strong comes up a lot. A lot of people call on behalf of someone in Acute Care or they use Google and find us years after their injury. There are a lot of unanswered questions: What is GF? What will rehab look like there? Can they still access GF as an outpatient? Where can they get local SCI info? A lot of people just don't know what the journey will look like and need more information. Other people don't know that they can go to GF after they're an outpatient. We have lots of discussions like this around what's available and how they can make use of the services at GF. It would be nice if there was an option like GF in all parts of the province, but we're not there yet." – Heather
Information Wallet Cards
Our Information Wallet Cards cover the basic information, symptoms and treatments of major SCI-related health issues. The wallet cards are available to download below or can be mailed to you by request by contacting info@sci-bc.ca.
"I love our wallet cards. They're based on peer requests and clinician best practices, and that's a beautiful relationship. There are a lot of people in the health community who don't know what issues like autonomic dysrelfexia is, so to have these cards with credible information and resources on them is so important. Plus, it's in a quick, easy-to-digest format that people can always have on them. I think it creates an opportunity for more informed care and gives people something to fall back on when they need it." – Heather
Visit our online SCI Info Database for more information about these resources and over 1,000 other resources that can help you!
Give our toll-free InfoLine a call at 1-800-689-2477 to ask a question! We're here for you Monday-Friday, 9 am – 5 pm.
Note: We do our best to ensure the SCI Info Database is current and to fix broken links as quickly as possible, but we appreciate people letting us know if they find something wrong so we can fix it! We also love to hear about new resources and encourage you to send anything you find useful to info@sci-bc.ca.