Ryan Clarkson savours both the challenge and solitude of the open road. He's taken us along on his most recent adventure, driving from Vancouver, BC to New Orleans, Louisiana—and back!
Day 1: Snoqualmie Pass, Washington
First night was wet and miserable. I was determined to get as far as possible before nightfall. I had an area I wanted to camp in near Snoqualmie Pass in Washington, so that's where I headed. I noticed someone was in the area I wanted to camp at so I took a random logging road to try and "discover" a sweet spot. Close to 30mins on this wet road I ended up hitting this roadblock. I should have stuck to the script and camped off the highway instead of trying to be adventurous.
Day 2: Malheur Reservoir, Oregon
The sun finally parted! I chose the right dirt road to drive on as it was packed with wildlife and spring flowers. Was still a bit cold and windy but I found my spot by Malheur Reservoir. Both night one and two got down to freezing, but it should be a lot warmer going forward. Onward and upward.
Made it to Wyoming. Took a few backroads and ran into some cattle traffic. Still cold at night but at least the sun is out.
Day 4: Pawnee Grasslands, Colorado
Another early start to a long day. Made my way to NE Colorado and camped in the Pawnee Grasslands. I knew I was going to camp in this area but not sure exactly where. Pulled into a field surrounded by wind turbines and stayed for the night. Amazing sunset with a great lightning storm that followed.
Very boring drive through the state of Kansas. Just flat fields and cheap gas. I did get a visit from this snake when I was in my chair. I hopped into my vehicle so fast and for some stupid reason I was honking my horn thinking it would scare the snake away.
Made it to Arkansas. Was pleasantly surprised with how green and lush the state is. I really enjoyed taking a few back roads, especially near the river where it was a swamp. Lots of flooding and old farm shacks dot the backroads. A lot to see.
Day 7: Clarksdale, Mississippi
Night 7 was unreal. I made it into Clarksdale in the early afternoon with the sun at my back. The town is pretty worn down both in the conditions of the buildings and roads, but it has a certain charm that you cannot get anywhere else.
Catfish sandwiches, 2 dollar beers, and great electric blues. What else could anyone need?
Very cool day soaking up some history. Spent roughly 7 hours zig zagging back and forth around the Mississippi Delta. Old blues legends run down grave sites, juke joints in the middle of the boonies, and every small town in between. It was nice dedicating a whole day to this site seeing as I could afford the time it took to take all backroads.
Day 9: Alabama/Florida Border
Night 7 was unreal. I made it into Clarksdale in the early afternoon with the sun at my back. The town is pretty worn down both in the conditions of the buildings and roads, but it has a certain charm that you cannot get anywhere else.
Catfish sandwiches, 2 dollar beers, and great electric blues. What else could anyone need?
Very rough start of the day waking up to 30 degree heat and covered in bug bites. I made my way to the Florida Gulf coast and spent the day driving around all the little villages. I did have a plan to camp on the Gulf tonight, but a severe storm rolled in around 4 so I just drove to Mobile, Alabama. The bbq and soft bed is well worth it.
While at the bbq place, I was told that my hotel was rumored to be one of the most haunted in Alabama. Not what I want to hear on a night of lightning and high winds!
Day 11: New Orleans, Louisiana
Weird start to the day. My jeep's engine would not start and I could not unlock and open my back hatch (where I store my wheelchair). It worked on the 5th go but still worried me. It was Sunday so no dealership was open. I did not let it get to me as I was 2 hours outside of New Orleans. My first night was amazing. Good food and good music.
Rough morning after a good night. I went to a jeep dealer to run a diagnostic test on my vehicle. Turned out to be a bad battery! I spent the rest of the afternoon checking out the WW2 museum. That night was more good food and music!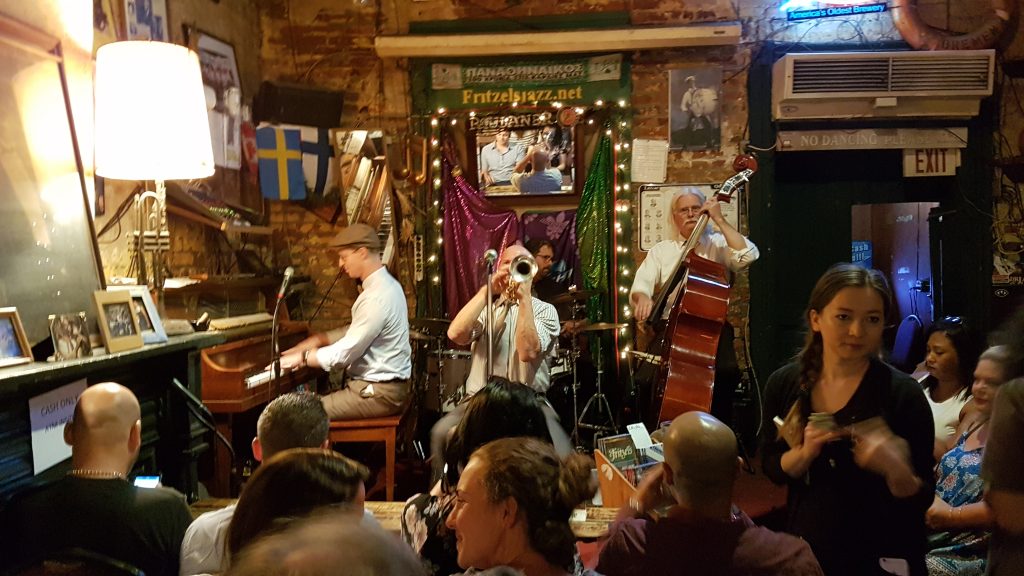 Absolutely insane Times in New Orleans. My liver and ear drums are taking a beating. It was a late night and slow morning so I lingered getting out of bed. The whole way down to New Orleans, I kept an eye on the weather. It was supposed to be 100% rain the whole time, but I somehow got lucky. Lobster omelette with grits for breakfast, shrimp po'boys for lunch, and red fish in creole sauce for dinner all followed by funk music down in the French Quarter.
Being in a chair down South is a little difficult to get around, but everyone treats you so nice and wants to help. I'm like Moses parting the sea that is drunk tourists. All I got to do is say "Excuse me" and the locals will yell "Get the hell out of the man's way" to whomever is not paying attention. It's also a bonus because a lot of people are very weird around the disabled and will just randomly want to buy me a beer for no reason!
Sad to leave New Orleans. I woke up ready to get going on a long day. I decided to take a slightly scenic route to catch some of the plantations on the outskirts of town. After a pretty uneventful day I made it to the Texas Gulf. I made it as the sun went down which was nice. You are able to drive on the beach which a lot of people were. The amount of oil refineries that dot the night sky is insane. Between the trash on the beach, drunk self-proclaimed rednecks, and all the pop refineries, I drove a bit away from the beach and camped in my car.
Day 15: Texas-Mexico Border
Another uneventful drive. The pot of gold at the end of the rainbow was finding a good free spot near the highest bridge in Texas. It sat on the Mexico/Texas border. I knew security would be tight down near the border, but it is pretty nuts. Random k-9 search road blocks in the middle of the highway, and border guards driving everywhere.
I had two very old drunk friends roll up to me as the sun set and could not shake them. I had to spend the night with them which was fine as they were funny.
Day 16: Big Bend National Park, Texas
Drove into Big Bend National Park. I had a plan to do a huge loop by entering in the east and exiting in the west. Of course 2.5 hours in the road and it was closed because of a wash out.
Had to drive back the way I came. Was feeling a tad rough from the heat and prior night so I got a cheap motel in some small town.
Day 17: Rock Hound State Park, New Mexico
Here I am at Rock Hound State Park. I was too tired to try and find a free spot which is rough near the Mexico border, so I came to a proper campground and paid $10. Great views though. Highlight of the day was driving around the White Sands National Monument in New Mexico. I miss the mountains and cooler climate, which I feel like a wimp saying.
Brutal day for heat. How do people live in Arizona?! My air conditioning stopped working which was brutal because it was 40°. I drove through Aguero National Park which was neat because of the huge cacti. My day ended around 8pm when I rolled into the Kofa National Wildlife Refuge and set the tent up, just in time for the sunset.
Fantastic start to the day as the weather and scenery were beautiful. I snaked my way up the Colorado River and into Las Vegas for some supplies and lunch.
While my phone still had reception, I scouted a spot to camp just off of Highway 95. I screen-shot the directions and made my way down the dirt road. This was a poor choice as the dirt road was washed out and I almost got stuck.
Ended up off the side of the road and went to sleep very early.
Well the day turned out to start promising, but ended brutal. I was going back to the Black Rock Desert in NW Nevada. This is the location of burning man, and the one of my favorite spots to camp.
I woke up early, hit the road, and made it to the area by 2pm. Just as I roll onto the desert playa, I see damp spots. This is nothing new for me as it is spring time. I hit the first damp spot and sink down to my door. Instantly stuck. Since I was out of cell range I could only call 911. The dispatcher told me that it happens all the time and that a RV was 7 miles out waiting for a tow. Since the mud was so strong, I could do nothing but wait in my driver seat for over 2 hours waiting for the tow truck.
I got pulled out, had a beer with the truck driver, and was told to go to the nearest town of Gerlach, and pay $100 to the waitress at Bruno's Country Club.
As we finished our beer he said "I've been towing people out of this playa for 30 years, and you are the first son-of-a-bitch I've towed who was in a wheelchair". That made me smile in an otherwise miserable afternoon.
I'm beat up, tired, and extremely dirty. I'm meeting 9 of my friends in Portland the next day and I want to be fresh. I drove close to Portland so I can wake up and get into town early. They are taking the train down, so that gives me a few hours to rest and wash up. I found a free spot in the mountains and absolutely loved the cool weather.
On my way to this spot I stopped in Bend for lunch. I went to the finest restaurant in town and looked out of place because I was covered in dirt and I stunk. I had to 'pretty woman' that place in order to let people know that I DO belong. I ordered the most expensive meal I could get to spite those staring at me!
Day 22-24: Portland, Oregon
Thursday, June 1, 2017 to Saturday, June 3, 2017
Finally made it to Portland to meet the boys for a friend's stag! It was nice to have a legit hotel and not a scary motel that opens out to the parking lot.
The first night was full of typical stag stuff, so my lips are sealed. The other nights were just as good as we caught a Portland Timbers soccer game on Friday, and enjoyed a huge parade that took up the whole downtown on Saturday. Cheep beers, cheap food, and good people everywhere!
My trip ended on a slightly sour note however. I went to drive home on Sunday and noticed that both my driver and passenger side windows were smashed in and my camera bag, passport, and a few other things were stolen. Absolutely brutal day, but over all the trip was well worth it and I got a ton of great memories out of it.
Want to learn more about Ryan's road trip? Contact him at rclarkson@sci-bc.ca.
Read more about Ryan's adventures: