Good for vegans

Serves 3
Ingredients
Vietnamese Summer Rolls
6 rice papers (preferably the circular sheets)
2-3 medium carrots, cut into match sticks or 1/4 inch sticks
1/2 cucumber, cut into match sticks or 1/4 inch sticks
1/2 bell pepper (yellow, red and/or orange), thinly sliced
1/4 red cabbage, thinly sliced
greens of choice: leafy lettuce, pea shoots, spring salad mix or micro greens
radishes, thinly sliced (optional)
organic tofu (firm or extra firm), sliced (optional)
mint, small handful of leaves
cilantro, small bunch of sprigs
basil, small handful leaves
rice noodles
Sweet Chili Sauce
1/4 cup unseasoned rice vinegar
2 tablespoons tamari or soy sauce
2 tablespoons warm water
2 tablespoon maple syrup
1 clove garlic, minced or grated
1 teaspoon red pepper flakes, or to taste
juice of 1 lime
Peanut Sauce
3 heaping tablespoons peanut or almond butter
1 tablespoon tamari or soy sauce
2 tablespoon maple syrup
2 tablespoon warm water
1 – 2 tablespoon rice vinegar, optional
juice of 1 lime
1 teaspoon red pepper flakes, optional
Vietnamese Summer Rolls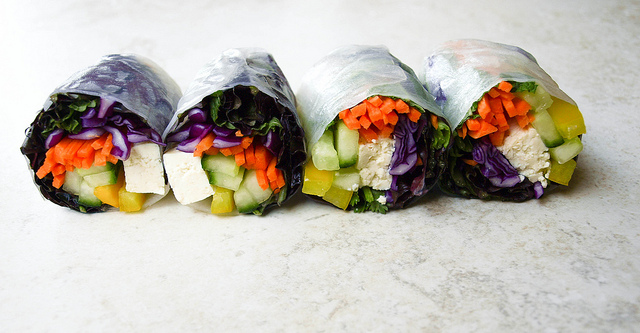 Directions
Mix your dipping sauce together first, let set so the flavors can mingle. It will taste much different after a few minutes. Taste for flavor before serving.
Fill a large shallow bowl 1/2 way with warm water…a large pie dish works great for the circular rice sheets which is what this recipe will use. Making one roll at a time, dip the rice sheet into the water making sure to get both sides and all edges, no need to let it soak until completely soft. Lay on a flat surface and fold in half, the rounded side will be the top and the flat side the bottom. The paper will still seem a bit stiff but will keep absorbing the water and soften as you layer your veggies. In the center, layer your ingredients…greens, herbs, tofu and veggies.
Fold the end corner over the layer of veggies, give a nice tuck and roll.
Serve with choice of dipping sauce.
Adapted from http://thesimpleveganista.blogspot.ca/2013/07/summer-rolls-two-dipping-sauces.html