With his recently-won pro card, Kamloops bodybuilder Tory Jones is looking forward to succeeding at the highest level of the sport in this year's iconic Olympia competition.
We love it when we see SCI peers challenging conventions when it comes to disability and sport. Tory Jones is one of those pushing those limits—literally and figuratively.
Jones, who was born and raised in Kamloops, has always been a strong guy, but when he fell in love with bodybuilding about seven years ago, he began to take his strength to new levels. The certified tree arborist began to hit the gym with increasing frequency, and in November of 2017, he competed in his first bodybuilding show. He didn't finish on the podium, but the experience ignited a passion for a sport that's known for both its physical and mental toughness.
"I was always athletic and strong as a kid and growing up," says Jones, who is 32. "But it wasn't until 2014 that I started to take bodybuilding more seriously—that's when I started to really put on size. Regardless of my placing, I looked at that first show as a stepping stone. It was definitely a great experience and made me realize the things I needed to work harder on."
Jones' aspirations were derailed in the summer of 2019, when he sustained an T-12 incomplete injury in a car wreck. "I was taking a couple years off to put on some size, and planned to step back on stage the year I broke my back," he says. "Unfortunately, life had other plans for me."
SCI, however, didn't change his desire to lift and bodybuild. "I never gave up my hopes of competing, After the hospital, while I was in GF Strong in Vancouver, I was already reaching out to other wheelchair users who competed in body building."
In fact, he entered a bench press competition in his home town of Kamloops just after completing his rehab stint at GF Strong. With his hospital bracelet still on, he bench pressed 315 pounds.
Shortly after, he was contacted by Edmonton's TNT Muscle Showdown. The organizers wanted to know if he was interested in participating in the wheelchair class of the 2020 event. Jones agreed. But as we all know, everything changed a few months later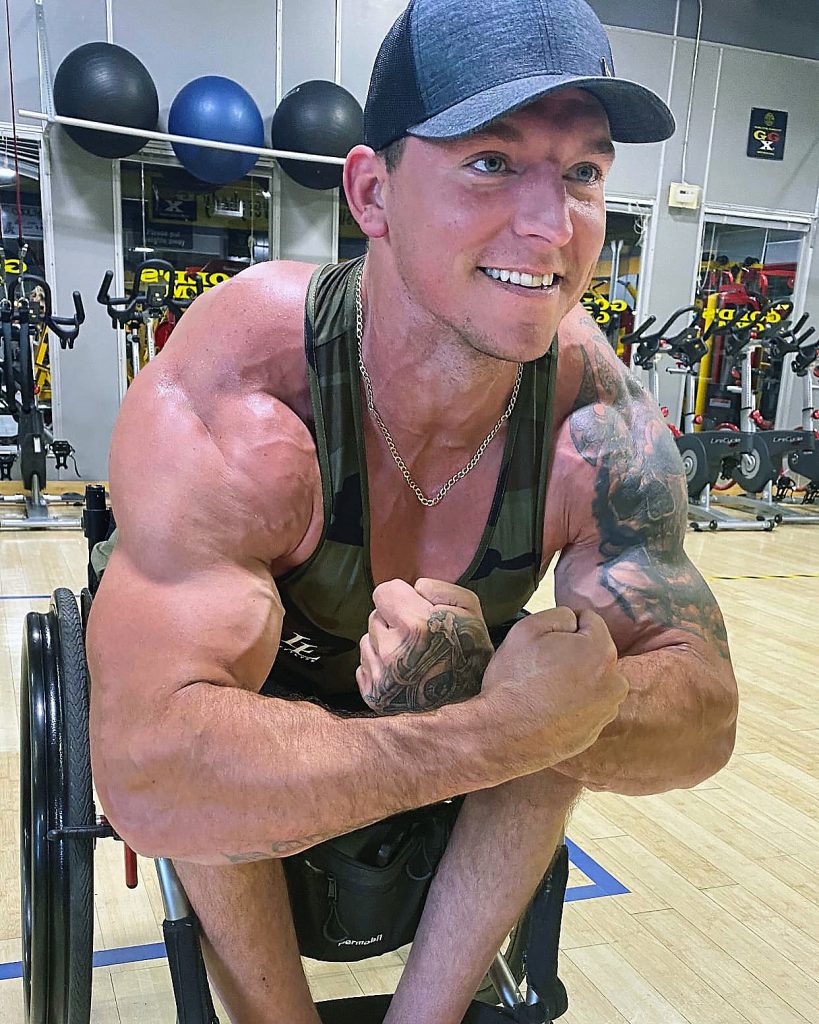 "Unfortunately, COVID put a halt to the TNT Muscle Showdown," he says. "But that gave me some more time to work on the size that I had lost while I was recovering in Vancouver."
He worked hard throughout 2020 and 2021 with a single goal: compete and win in the qualifying for the Toronto Pro Show, scheduled for December 4, 2021. A victory would give him a coveted IFBB (International Federation of Bodybuilding and Fitness) pro card, which would allow him to compete in virtually any wheelchair bodybuilding event around the world, and make him only the second Canadian man to hold the pro designation (Edmonton's Jack McCann is the other).
More importantly, it would guarantee him a berth in the 2022 version of bodybuilding's most prestigious event, the Olympia competition, held annually since 1965 in honour of the late Joe Weider, the famous Canadian bodybuilder who is recognized as the father of modern bodybuilding.
"I ended up winning my pro card by competing against other wheelchair competitors," says Jones. "The following day, I competed in the pro show and won that by default, because no other pros were there."
Today, he has a new single goal in mind. "After Toronto, I continued to train consistently. I'm trying to add size for Olympia, which is the highest level show in the world. The goal is to crack the top five in the world."
He'll continue juggling training with his family life—he and his wife Chelsea have a son and daughter—and his work.
"As for body building paying the bills, no, it does not— although there is prize money to be won," he says. "So I'll continue to work full time as well as train. I have been back on the job for over a year now, in the management side of the company I work for."
If it sounds like a gruelling schedule, Jones says it is—but he wouldn't have it any other way.
"Bodybuilding is just something I fell in love with," he says. "There are no rules. And you're always striving to be bigger and better than you were before. It's always really rewarding during prep to see how much progress you have made. Like any sport, it's definitely personal preference. The training and strengthening of your body is always beneficial. I definitely always encourage anyone with an SCI to add the gym into their lifestyle."
Learn more about wheelchair bodybuilding at wheelchairbodybuilding.com.
Reach the Beach: aMTB Innovations
Take a Deep Breath: Yogic Breathing for SCI
Smart Home Technology
And more!