This summer I have answered numerous InfoLine requests for information about accessible hotels in various parts of BC. While there are a number of hotel options on our database for visitors to larger cities, the choices become few and far between for some smaller communities.
Although the Internet is an excellent resource for many things, it can be very difficult to find trustworthy and reliable information on the specifics of accessible rooms. In many cases I could not find what the caller needed, so I resorted to calling individual hotels. I came up with some amusing but very unhelpful responses, which are probably familiar to most of our members:
"Yes, the elevator is accessible but we don't have any handicap rooms."
"The hotel entrance is accessible…accessible bathrooms? Well, each room has a bathroom but a wheelchair couldn't get in."
"How wide are the doors? Wide enough."
"Yes, we have an accessible room. It's just up three steps."
And my personal favourite inappropriate response (I have no idea what this hotel thought I was asking about!):
"Wheelchair access, what, in the bathroom? Well, there's a hair dryer."
You can imagine my delight when I talked to someone who actually knew how many inches wide the doorways are, or who knew what a wheel-in shower is and whether or not the hotel has one. These are the places I suggested the callers contact for more specifics to see if they could book a stay. Unfortunately, people who use wheelchairs and looking to travel don't have as many options for places to stay as everyone else does and the accessible rooms may be booked up in advance.
There are several problems, I think. The first is that there aren't many accessible rooms to start with and some of the ones that do exist may not be very functional due to misunderstandings about the layout or design. An inexperienced able-bodied person can easily overlook something that is crucial in the way of access, which can render an apparently accessible room unusable for some people.
Just as importantly, it is very difficult, as I've learned, to find information about the accessibility features that do exist. While some hotel websites do a great job outlining what accessible features they have, and some even include measurements, many websites bury the information or list it so vaguely that it isn't very useful. And, some hotel websites do not have this information at all. Calling the hotel directly may not solve the problem either. I've found that the people answering the hotel phones often aren't very knowledgeable about accessibility issues, hence the sometimes strange responses I have gotten.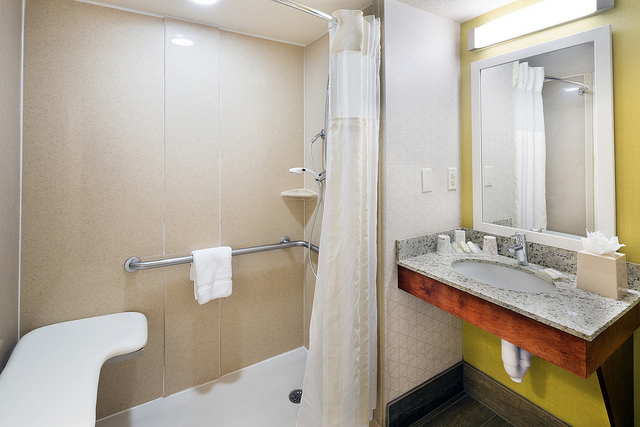 Unfortunately, when the information is this hard to find, people get frustrated and may even choose not to travel. Certainly, people are less likely to travel to a location where the accessibility is an unknown quantity unless there is no option. This is a shame because we know that traveling, getting involved in recreation activities, and visiting friends is not only beneficial but is also entirely possible for people with SCI. It just takes a bit more pre-planning and flexibility.
When I talk to our callers about booking hotel stays, I give them a list of suggestions about what to ask to help ensure the booking goes smoothly and the accessible room promised will actually meet their needs. I've posted these suggestions before, and they can be viewed here.
However, in the interests of finding larger-scale accessibility solutions for everyone, here are my suggestions to hotels:
Include accessibility features, with measurements or even floor plans, in a prominent place on the website.
Educate staff about the features and make sure those answering the phones have a fact sheet at their fingertips with all the accessibility specifications a person might ask about.
Keep in mind that people with disabilities have money to spend and will go elsewhere to find a hotel that meets their needs. They will take family members and friends with them, so there is a cost to not providing good information on accessibility.
Talk to travelers with disabilities directly about what features are needed so that the people using the rooms have functional access.
Ensure that what is promised during the reservation process is actually provided. One of our staff members recently did everything possible to ensure the room would be appropriate, only to arrive and find that it was nowhere near what had been promised. This can, of course, happen to any traveler, but it's more problematic when it involves basic access to the bathroom, as just one example.
I also encourage our members to have discussions with hotels (and any other relevant business) to help spread the word about what proper accessibility actually means to people who need to use the services. Emphasizing that good planning and design actually benefits everyone during some stage of the lifespan is one way to help businesses understand the benefits of better accessibility. It also helps to show people that disability access, when done right, can be aesthetically pleasing to everyone.
What else have you done when booking hotels? What would be helpful for you to know during this process? Please share your stories so that we can learn from each other to help make things easier the next time.