As we start to gear up and plan for our upcoming Adaptive Cycling Program, let's look at last year's highlights so you know what to expect in the summer.
SCI BC's Adaptive Cycling Program is a fantastic way for people with SCI and other physical disabilities to learn how to cycle, find the right adaptive bike and explore nearby trails with peers and support. If you're new to adaptive cycling, our bike fitting clinics are a great first step to try different handcycles and adaptive bikes and get hands-on practice ­– no prior cycling experience is required! We can't wait to start the 2023 season, but in the meantime, scroll down below to get a snapshot of what our Adaptive Cycling Program is like:
HIGHLIGHTS
In 2022, SCI BC launched its very first Adaptive Cycling Program from May 1 to August 14 – it was a huge success! We kicked off with Handcycle Demo Day at Trout Lake Park in Vancouver, with 55 participants, 5 volunteers and 3 staff.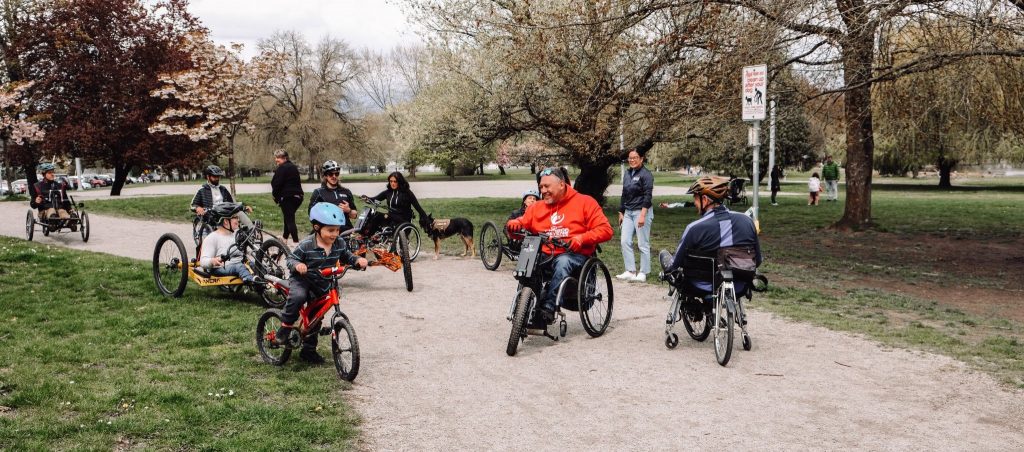 Adaptive Cycling Program Overview:
21 participants and 3 staff enjoyed a total of 35 group rides and 9 participants attended more than once
Sessions were held in parks in Vancouver, Richmond, Burnaby and North Vancouver
3 staff and 4 volunteers led our three session types: Bike Fitting & Clinic, Group Rides, and BYOB Rides (Bring Your Own Bike) for those who already have a bike
5 participants found and purchased an adaptive bike or modified an existing adaptive bike as a result of participating in our Program
Here's what our participants have to say…
"Everyone made me feel so welcome. Thank you, especially Jenna, Jocelyn, Ethan & Peter. I loved being able to ride a recumbent trike and use the foot pedals. The additional e-assist skill training today was really fun. I am so excited for the upcoming possibilities."
"My goal was primarily to ride with others for group rides in different locations and to meet other peeps, and I achieved my goal!"
"It was great to be out and I appreciate you guys including me. I think I found the perfect trike for my needs. It's similar to the one I tried, just a bit more sturdy and has trail options."
FEATURED BIKES
We added two handcycles to our fleet that came directly from avid handcyclists in our own peer community. These bikes help our fleet offer more options to riders with different functional needs and recreational goals. Check out the full fleet at sci-bc.ca/cycling/our-fleet.
The Dunkster – This lime green Freedom Ryder E1 handcycle with electric assist and a supportive electric seat lift built by Tetra makes for much easier transfers. The seating and U grips were customized for the support and hand function needs of quadriplegic riders by Duncan Campbell, an SCI peer and longtime handcyclist.
The Quickie Shark ­– This handcycle adds some sizzle to our fleet with 21 speeds, designed for comfort, height and angle adjustability, touring, road cycling or racing, and a slick red paint job. This model is well loved by handcyclists who enjoy marathons, road races or touring.
RESOURCES
Can't wait to get on a handcycle or adaptive trike? Check out our adaptive cycling resources created by our team to help you get into adaptive cycling/handcycling. We are currently working on migrating this content to our Adaptive Cycling Program website at sci-bc.ca/cycling. Stay tuned for a fresh new look and more resources!
SCI BC's Adaptive Cycling Program is an affiliated club of Cycling BC and operates in partnership with HUB Cycling in Vancouver.
A BIG thank you to our sponsors for making our Adaptive Cycling Program possible: