When seasoned traveller and stroke-survivor Dannielle Hayes got the opportunity to revisit her seafaring days and cruise from British Columbia to California, she jumped at the chance… so to speak.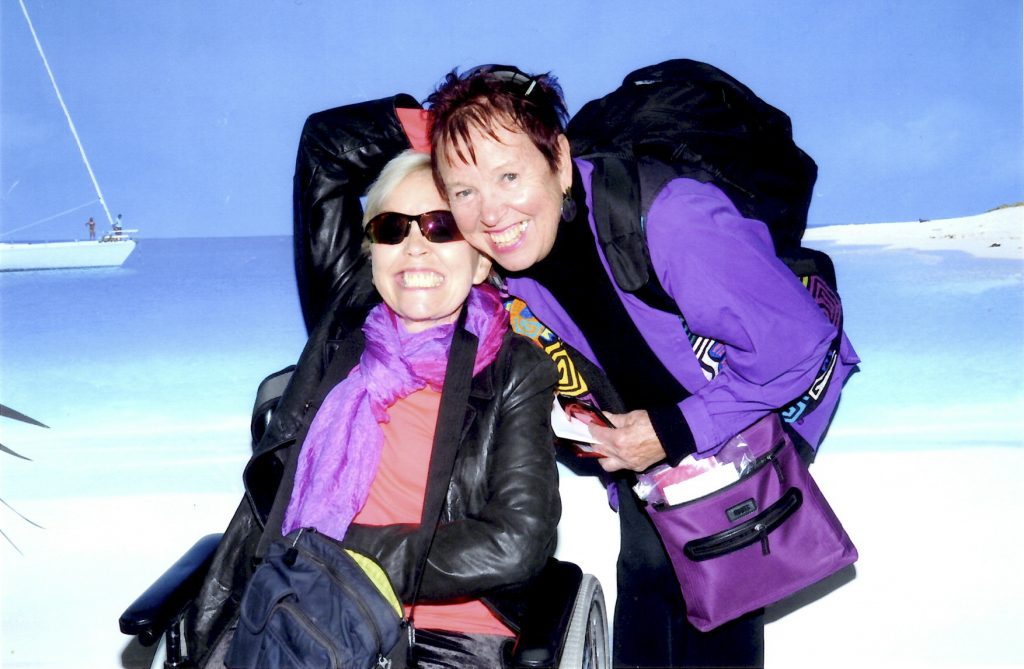 Having travelled most of my life, when my older sister suggested we go on a repositioning cruise from Vancouver to California, I jumped at the chance. It would be a way to visit with my daughter and family in Venice, California, and also to re-connect with my sister who lives in Victoria where we grew up.
As a teenager, I had always been around boats; sailboat racing from the Oak Bay Yacht club with a boyfriend, exploring the Gulf islands, and later working aboard the CPR ferries that sailed from the Seattle harbour, as crew moored at night to sail next morning to Victoria and back to Seattle. The seas were not always calm so I had subconsciously developed a rhythm in my legs and brain called sea legs as a way of coping with rough seas instead of being tossed overboard or face-planting mid-ship. I'm sure every sailor has sea legs.
"I had sub-consciously developed a rhythm in my legs and brain called sea legs as a way of coping with rough seas instead of being tossed overboard or face-planting mid-ship."
I have never been seasick though came close after polishing off a plate of spaghetti with tomato sauce on a very rough crossing of the North Sea from England to Norway. I was rescued by a lovely Norwegian girl who talked me into going down to the bar where she had two young men plying her with drinks. It worked! We both got so drunk that I forgot about being seasick and drifted off to sleep on my bunk to arrive next morning in Stavanger, Norway. I hate spaghetti with tomato sauce to this day.
On our repositioning cruise aboard the Ruby Princess, my sister had booked an accessible cabin on Deck 15, the same deck as the Captain's bridge. Our room had a roll-out deck so my sister said, "We can see Washington, Oregon, and Northern California."
"By keeping the deck door open, we'll be able to see all the stars and hear the ocean waves," she added, romantically.
As with all ships, there is a fire and emergency drill with life-vests that all passengers and crew must have so we were assigned a muster station to which we were to hustle and each put on a bright orange life-vest. On the CPR ferries, our life vests were called Mae Wests, soft like her 1920s famous and ample breasts. The vests had also been well-used over the years so were stained with dribbles and drools of various crew members.
The Ruby ship's new orange life-vests were hard-edged and sometimes were so big that one's head would seemingly disappear. In order for my sister to push my manual chair to our muster station, she put her life-vest on and carried the other. We must have been stopped at least a half dozen times by a crew member to remind us not to don the vest until we were at our muster station. After a while we just said yes, ignored them, and proceeded.
I had been reading the ship's newspaper that told the history of the Princess Cruise Line. It was named after the Princess Patricia, the old CPR ferry that both my sister and I had worked on in the summer months between high school and college. When I saw a handsome young man dressed in a navy blazer with brass buttons, white trousers and shoes, I elbowed my sister and said, "What do you bet that he's the Cruise Director?"
Sure enough, when he came to introduce himself, we told him about working on the Princess Pat. I said, "You are looking at the original princesses." I thought he was going to kiss our feet he was so blown away. He called over some of the other crew and introduced us. It was going to be VIP treatment all the way to California… or so I hoped.
I said, "You are looking at the original princesses." I thought he was going to kiss our feet he was so blown away.
The Ruby sailed out of Vancouver harbour in a slight October fog and choppy seas. As Washington state disappeared in the grey distant fog, we all herded to our assigned dining room tables like starving elephants. It always puzzles me that the elevators on cruise ships are mostly crammed full of obese passengers who can easily take the stairwell to go up or down one floor, whereas wheelchair passengers have to wait until there is space. As a result, our fellow table-mates were already on dessert by the time we got to dinner.
The air-conditioning had been cranked up high in our cabin so we asked for extra blankets. The Pacific waves had also increased to make the Ruby rock n' roll over the swells. I imagined myself clinging to the top of a mast in a hurricane. I managed to get up to the bed and settled down for the night. I had suffered a stroke in 2010 leaving my left side paralyzed so negotiating the climb to bed was no small task.
In the middle of the night, I had to get up to pee, so I grabbed my quad cane, wiggled my legs over the side of the bed and started towards the accessible bathroom. A strange thing happened then. My sea legs kicked in and I got into the rhythm of the ship making my way safely to the bathroom and back. As I sat on the loo, I thought even if I had fallen and cracked my head on the toilet and lay bleeding to death, it wouldn't have done any good because my sister is deaf, snores too loud, and had the deck door wide open. There was no land, no stars, and no one to hear my screams.
I had been saved by my sea legs.