Depending on where you live in our great province, surviving winter means dealing with snow, rain, slush, or some combination of the three. But don't worry—we've got your back. Here are a few warm and friendly reminders for navigating your neighbourhood in sub-zero temperatures, finding local events to keep active, and staying safe.
1. Layer Up
Wear layers that will retain heat while allowing your body to breathe.
Choose a light base layer, a thick medium layer, and a waterproof outer layer. Wet clothing greatly increases heat loss, so find base layers that wick away moisture — cotton, nylon and polypropylene fabrics are favourites. When the temperature does drop, make sure to add layers: blankets, hats, gloves, and scarves. And don't forget about those toes — boots are worth it!
Check out more helpful tips from our peers on keeping warm in cold weather.
2. Plan Your Route
Your favourite way to work may not be so accessible in the snow, your bus may be late, or your parking spot may be flooded.
In metro Vancouver, check Translink.ca for up-to-date information.
In other parts of BC, see if your public transit has a website, Twitter, or Facebook page (social media often gets updated faster than local news). Ensure your vehicle is safe, obey winter tire and chain signs, and check out DriveBC.ca before you head out.
3. Be Prepared
It's the Scouts motto for a reason. Always be prepared for adverse weather conditions by packing an emergency vehicle kit (flashlights, blankets, and reflective cones are a good start) and an emergency home kit (food, water, a radio and first aid supplies are must haves).
Store-bought kits can be useful, but they often lack the SCI-specific necessities you may need — an extra chair battery, medications, and adaptive equipment.
(Some great ideas on SCI-relevant emergency kits can be found in the Summer 2016 issue of The Spin, pages 14 & 15.)
4. Take Your Vitamin D
The number of sunny days in BC dramatically decreases during winter, so it's important to get enough vitamin D. Consult with your doctor about this and any other winter health worries you may have.
Fill your prescriptions ahead of time in case the weather makes it impossible to travel (tip: many pharmacies offer online renewal). Finally, pay attention to what your body tells you during the winter — even small changes may be important!
6. Stay Engaged
During dark and dreary months, try to stay socially active. Visit our BC Events Calendar for ideas. If the winter weather has kept you close to home, try out our Virtual Peer sessions, connecting you to groups of others with SCI for discussions on SCI topics or just for fun. (Contact tthorson@sci-bc.ca to learn more!)
Stay positive by setting small, achievable goals daily. If you can't travel, stretch those brain muscles with books, puzzles, games, crafting, knitting, writing, or woodworking, or just trying something new. And do as the Scandinavians do — embrace winter by enjoying comfort food, cosy nights with candles, and the company of good friends and family.
7. Check Your Ride
Squeaks? Steering issues? Flat tires? If your chair has a problem, winter will surely make it worse. To avoid the stress of being stuck in a snowdrift, follow these winter wheelchair tips:
Charge your battery regularly
Change to winter tires — extra tread means more grip on slippery surfaces
Inspect your chair frame and electrical connections often
Remove debris from the axle housing
Clean your chair when you come in from wintery streets with sand and salt to minimize corrosion of metal parts and connections.
(Pssst! Want more wheelchair maintenance tips? Check out The Spin Winter 2015 issue, page 12-14.)
8. Mind Your Hands
If you use a wheelchair or crutches, you might be using your hands a lot, so it is crucial to look after them during the cold, wet and rainy months. With winter snows come salt and sand on the roads, which can wreak havoc on even the most calloused wheelchair user.
Wash your hands soon after you come in from outside if there's salt and sand on the roads where you are. Wipe your push rims too to get the salt and sand off (and keep it from tracking all over your place).
Use only non-antibacterial soaps and a good petroleum-based hand lotion to help avoid drying out your hands in winter.
Find the gloves that work for you, and have a few pairs around to protect your hands. Try the inexpensive, stretchy but grippy work/gardening gloves you can get at Home Depot or Walmart with a vinyl coating on the palm and fingers; Home Depot heavy duty leather winter work gloves are still cost effective; pricey but insulated leather curling gloves; or leather fashion gloves from Winners or thrift stores you can use until they wear out. (Our favourite gloves for winter wheeling can be found here.)
9. Equip Your Sticks
Do you use crutches or canes some of the time? Luckily there are a variety of devices that make your crutch or cane into your own personal snowshoe:
10. Ask For Help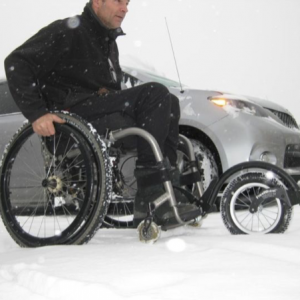 Maybe you need a ride, an extra set of hands or the right tool to get through the snow, or a visit from a friend. There's no shame in asking for a little help from those around you. Practicing the buddy system may sound old school, but travelling with someone, or having someone you're able to reach by phone at any time, is one of the best ways to prepare for winter.
If this seems difficult, SCI BC's toll-free InfoLine (1-800-689-2477 or info@sci-bc.ca) is happy to help — ask away.
11. Be Seen
The low light, darkness and wild weather makes being seen an important safety priority in the winter months.
Wear high-visibility clothing, add reflectors to jackets and bags, and consider adding TetraLites to your wheelchair, scooter or handcycle.
This article first appeared in our Winter 2016 issue of The Spin, alongside other stories including:
Doggone Dilemma
"Call Me Taylor"
Royal Style
Golden Girl: MLA Michelle Stilwell
and more!