Most young girls dream of their sweet 16th birthday. It's no different for Ainsley who celebrated the big moment this May. But the journey to get here hasn't been easy. Her mom explains.
Two years ago, Sarah's 14-year-old daughter was playing with her brother and friends when she fell from a tree. The active youngster sustained a serious spinal cord injury and instantly became a quadriplegic. The tragic accident changed the Kelowna family's life forever. And now Ainsley's sweet 16th comes within days of the anniversary of her injury. Sarah says it is a hard time for the family. "Truthfully, we are just an emotional disaster right now."
There's no question that a spinal cord injury is devastating. It impacts every aspect of daily life and the lives of loved ones. But you can make a difference. Your gift helps people thrive.
Ainsley's accident happened during the early days of the Covid pandemic. It made an already difficult situation that much harder on the family. Only Sarah and her husband were allowed to be with their daughter while Ainsley was in the hospital in Vancouver. Even her brother couldn't visit. And she couldn't interact with the other patients. It was extremely isolating for the young girl.
We know that connection and information are vital when learning to adjust to a new way of life. Thanks to your generosity, we bring people together and provide the answers that make living with a physical disability easier.
Sarah admits that it's all so overwhelming at first. "I don't always know who to call and what to do. As a parent, I'm always looking for tips that will make things a little better for Ainsley." She was relieved to discover our extensive SCI Database early on in Ainsley's recovery. It's like an online encyclopedia with hundreds of resources readily available at your fingertips.
Whether someone needs help finding accessible housing, special equipment, adapted recreation and sports opportunities, tips on traveling with a wheelchair or anything related to living well with a physical disability in BC, we are here to help.  Sarah found our information for the newly injured especially useful.  She says thankfully, "Your resources are amazing. They help us better understand all this, for sure."
After almost a year of rehab in Vancouver, Ainsley is happy to be back home in Kelowna. And she's one busy lady! She is a top student at school. She continues with her rehab three times a week. There's a part-time job that she loves. And like any teenager, Ainsley enjoys hanging out with friends. All this doesn't leave much time for anything else.
Even so, Ainsley and her mom jumped at the opportunity to attend our recent four-day "Women's Retreat" on the beautiful shores of Lake Okanagan. It was a chance for women with a spinal cord injury to unwind, build friendships, try adapted activities, be pampered, and just feel good in their new bodies. Sarah says it was an important step in her daughter's journey.
It was a fun getaway. Ainsley really enjoyed the painting and art therapy sessions. And sharing meals with the other ladies. I think this coming together and connecting was the best part. Ainsley hadn't really spent that much time with other quadriplegics before this. So it was good for her to meet other women who are living in wheelchairs and see what they are able to do. And, of course, everyone loved getting their nails done!       
This is the power of peer support. It's about being with those who get it because they have travelled a similar path. People come away with increased confidence, new friendships and the realization that life can be full and rich again. And your gift is what makes it all possible. 
Now that Ainsley is 16, her goal is to get her driver's license and an adapted car. It's a complicated process, but Sarah knows that her daughter's incredible determination will see her through. Being able to drive herself will give Ainsley the independence all teenagers crave. And it means that she can come out to more of our peer activities, especially now that we are returning to in-person events. As for the future, Ainsley has her hopes set on going to university to study law or psychology. She wants to give back and help others. I know she'll excel!
With thanks,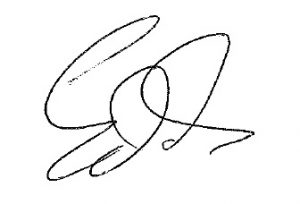 Ed Milligan
Chair, SCI BC Board of Directors